Guyana Jaguars' newest addition to their four-day team, Robin Bacchus says he will be looking to cement a place in the side once given a chance to perform during the final leg of the 2015/16 Professional Cricket League (PCL) competition which restarts today.
Stabroek Sport caught up with the 27-year-old opener immediately after the team was announced on Wednesday evening and he expressed a high level of bliss ahead of the upcoming rounds, with the first being played today in Guyana at the Providence National Stadium against the Trinidad & Tobago Red Force. He also confessed that he was delighted to have been considered for the longer format.
The left-hander who could possibly make his debut today after Chris Barnwell's injury ruled him out, will provide another left-arm fast-bowling option for the Jaguars who as of recent have been favouring the idea of having a few hard-hitting all-rounders in their four-day side.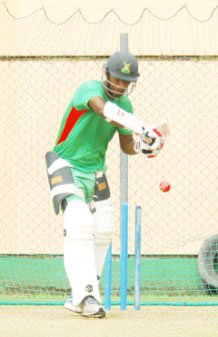 After strong domestic performances in 2014, Bacchus was first called to the Jaguars' senior limited overs team back in 2014 and went through a rough patch. However, an Academy contract seemed to turn things around significantly according to Bacchus who credited his stint with the Jags' second tier squad for his return to form.
"The academy has helped me a lot with my fitness and with the technical aspects of the game and it also makes me so tired I get to sleep early at nights", said an elated Bacchus. From an on-field perspective, it would seem that the weekly training sessions which include cardiovascular routines, net sessions and other simulations have indeed been a breath of fresh air for the batsman.
A half century in the Jaguars three- day practice match last week prior to a masterful 153 in the first division competitions for the Georgetown Cricket Club (GCC) along with some attacking stroke play during the Unity T20 match played with the likes of Chris Gayle, Jason Holder and Darren Sammy among other performances, ensured that the selectors acknowledged his new-found maturity.
"Now that I'm feeling confident with my batting again, I want to continue to work hard to stay in form and continue to hit a lot of balls and not get out".
He added, "Most people believe that I'm more suitable for limited overs cricket and I'm comfortable with that but I have been doing a lot of work with my shot selection and working on batting for long periods so I would fancy a chance at four-day cricket".
Renowned for his aggressive approach and power-hitting at the top of the order, the former Under 19 batsmen said that he has matured as a cricketer. "I have made some changes to my technique and I have been working on trying to control that aggressive nature of my batting style and being more selective".
The former Guyana Amazon Warriors player said that his journey has been filled with emotions and perseverance. "The hardest thing for me was regaining the confidence I had back then and now that I have it I'm just enjoying playing the cricket I'm used to". The so far undefeated defending champions sit comfortably at the top of the table with 87 points.
The Guyana Jaguars 13-man team reads: Rajendra Chandrika, Tagenarine Chanderpaul, Assad Fudadin, Leon Johnson (Captain), Vishaul Singh (VC), Raymon Reifer, Anthony Bramble (wkp), Veerasammy Permaul, Devendra Bishoo, Gudakesh Motie, Keon Joseph, Ronsford Beaton and Robin Bacchus
Around the Web