Powerlifting has a brand new executive and Ed Caesar will be at its helm.
Following yesterday's Annual General Meeting (AGM) at the National Resource Centre, the former Chief Education Officer was elected president of the Guyana Amateur Powerlifting Federation (GAPF) for the next year.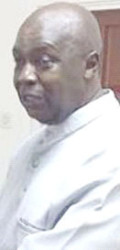 Caesar was elected unopposed after former president, Peter Green declined reelection after eight consecutive years in charge.
Elections for the new executive was conducted coincidentally by Caesar who was also the Returning Officer.
Nominations were also held for the positions of Vice President, Secretary, Treasurer, PRO/Organizing Secretary and Committee Members.
Farouk Abdool, Shellon Nicholas, Delton Gillis and Roger Callander were the persons voted to occupy these respective positions.
During the AGM yesterday, the Secretary and the President's Reports for the past year were also discussed.