Slingerz FC solidified their position atop the Guyana Football Federation (GFF) Stag Beer Elite League, downing Fruta Conquerors 2-0 on Friday at the Camp Ayanganna ground.
Vurlon Mills and Trayon Bobb netted in the 36th and 65th minutes respectively to the seal the Vergenoegen unit's fifth straight win. With the result, Slingerz FC move onto 15 points.
It was the first defeat for the Tucville side which remains in second position on 10 points.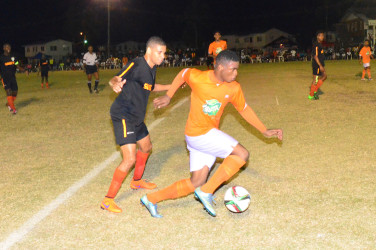 Slingerz FC started the matchup in the ascendency and almost took the lead in the eighth minute through Kithson Bain who was denied smartly by the advancing goalkeeper from within the right of the box.
Next Shaquille Agard nearly gave the Tucville unit the lead in the 26th minute, flicking a left foot strike narrowly wide of the lower left corner, after collecting a left side pass from Herbert Pedro within the six yard box.
The woodwork then denied Slingerz from taking the lead as a Mills right foot volley from the top of the box in the 30th minute, crashed into the right upright.
Mills, however, would not be denied, breaking the deadlock seven minutes later with a simple header from inside the six yard area, after collecting a left side cross.
Following the resumption of play, Jahaal Greaves almost equalised in the 52nd minute but his right foot attempt from within the right of the box, struck the right upright.
Nonetheless, the West Demerara unit sealed the score line 13 minutes later compliments of an unchallenged header from Bobb within the left side of the box, after latching onto right side cross from Bain.
Meanwhile, the Guyana Defence Force (GDF) and Alpha United battled to a 1-1 score line in the second affair of the evening.
Delwyn Fraser gave the home side the initial lead in the 14th minute, racing into the centre of the box following a one-two pass combination before unleashing a powerful right foot strike into the lower left corner.
Dwight Peters almost levelled the score for the visitors in the 30th minute, sprinting onto a through pass within the box, only to be denied brilliantly in a one on one situation by goalkeeper Oswald Cornette.
Nonetheless Alpha grabbed a deserved point in the 57th as Delon Lanferman scored with a right footed finish into the lower left corner.
Due to the result, Alpha United remain in the third position on eighth points while GDF remain in fourth place on seven points.
Action in the tournament is slated to continue today at the ground with another doubleheader.
In the opening fixture 18:00hrs,  will oppose   while at 20:30hrs,  will tackle  .
Current Points Standings
Team                            GP      W       L       D      GF      GA      GD       Pts
Slingerz                        5         5       0       0       14        2       +12       15
Fruta Conquerors      5         3       1        1        9        6        +3        10
Alpha United              5         2       1        2       10       5        +5         8
GDF                             5         2        2       1        5       10        -5         7
Buxton United          4         1        2        1       4         5        -1         4
Pele                             4         1        2        1       2         3         -1        4
GFC                            4         0        3        1       3         8         -5        1
Monedderlust         4         0        3        1       2       10         -8        1
Around the Web