A fourth quarter assault propelled former champ Ravens to a 78-63 quarterfinal victory over Plaisance Guardians when the Guyana Amateur Basketball Federation Road to Mecca National Club Champion-ship continued on Saturday.
With the score knotted 46-46 going into the final period at the Cliff Anderson Sports Hall, Ravens outscored Guardians 32-17 to clinch their berth in the final four.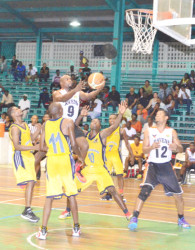 It all started with an 18-7 run in the opening five minutes of the fourth period to give Ravens a 64-53 advantage.
Guardians simply had no answer for the surge by Ravens closed out the contest with a 14-10 run.
Ryan Stephney led the fourth quarter scoring for Ravens as he netted 14 of his eventual 15 points to go along with eight rebounds.
Dominic Vicente also recorded 15 points while Jermaine Slater netted a double-double of 12 points and 14 rebounds.
Ryan Gullen chipped in with nine points.
For the East Coast of Demerara unit, Nikoloi Smith top scored with 26 points while Ron Campbell scored 17.
Prior to the conclusion, the contest was evenly fought from the first whistle as a mere three points separated the teams throughout the matchup.
The first period witnessed the Georgetown unit grabbing the lead as they outscored Guardians 16-13. Ravens maintained their marginal lead going into the half time interval as both teams recorded 15 points each in the second period to end at 31-28.
Guardians eventually got the better of Ravens in the third period, netting 18 points while restricting their opponents to 15 points to level proceedings at 46-46 and set up an unlikely finish.
Ravens will now oppose Colts in the semi-final. While Ravens was made to work for their victory, the Carmichael Street unit made light work of Pepsi Sonics winning 70-48 in the opening quarterfinal matchup.
Shelroy Thomas led Colts with a game-high 24 points while Shane Webster recorded a double-double of 16 points and 19 rebounds and Stanton Rose netted 15 points.
For the losers, Trevor Smith and Jason Squires netted 18 and 17 points respectively.
Comments

Floodlight Masters Sunday warmed up for the upcoming seventh annual Guyana Softball Cup tournament by winning Sunday's four-team Jai Hind Cricket Club fund-raising softball tournament in Berbice.

BULAWAYO, Zimbabwe, CMC – Kieran Powell and Kyle Hope got into gear with half-centuries, as West Indies had to settle for a draw with Zimbabwe "A" in their three-day, tour match yesterday.

It was a disappointing day for team Guyana as the 2017 Indoor Pan American Cup continued yesterday at the Cliff Anderson Sports Hall (CASH).

Gold is Money will oppose Future Stars in the inaugural Street Vibes Entertainment Futsal Championship grand finale today following semi-final wins over Sparta Boss and Back Circle respectively on Monday.

Santos hammered Northern Rangers 3-0, when the Georgetown Football Association (GFA), 2017/2018 Premier League continued on Monday at the Georgetown Football Club (GFC) ground, Bourda.