The Boyce/Jefford Track and Field Committee yesterday launched a precursor to its annual fixture at the 704 Sports Bar.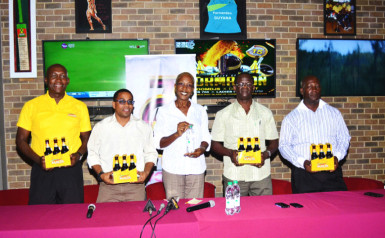 A spinoff of the meet which is hosted at the Mackenzie Sports Club in August is coming to the city soon.
According to the Chairman of the Committee, Colin Boyce, plans are in the pipelines to host the inaugural Boyce & Jefford Relay Festival and Family Fun Day on April 24 at the Police Sports Club Ground, Eve Leary.
Apart from the relay events, the day's activities will also include 5-a-side Football, Softball Cricket and Dominoes.
Gates are scheduled to be opened at 10:00hrs and admission for the event cost $500 and $200 for children.
The relay events are as follows: 4×100 Females, 4×100 Males, 4×400 Females, 4×400 Males, Sprint Medley Females (100m,100m, 200m, 400m), Sprint Medley Males (100m, 200m, 400m, 800m), Distance Medley Females (2400m ) (400m, 600m, 600m, 800m) and Distance Medley Males (2800m) (400m,600m, 600m and 1200m)
Boyce told media operatives that cash prizes will be awarded to teams finishing 1-3, while cash prizes will also be awarded in the other sport events.
The event has the blessing of Banks DIH Limited (one of the main sponsors) and the National Sports Commission.
Note: The seventh annual Boyce Jefford Classic, one of Guyana's premier sporting events will be held August 27-28.
Around the Web