Linden Johnson, Coach of the Guyana five-man table-tennis team strongly believes they can win the title at the 21st annual Caribbean Table Tennis Juniors/Cadets tournament and secure a spot for July's Pan-American Championship.
After some three weeks of training, the Guyana team of Shemar Britton, Kyle Edghill, Miguel Wong, Nicholas Romain and Elishaba Johnson, will depart for the Dominican Republic today ahead of the competition which runs from tomorrow until April 18.
During a pre-tournament interview with Stabroek Sport yesterday, Johnson said that there was no doubt that the five young men were the best of the best in the Under-18 category and credited the selection panel for their nominations.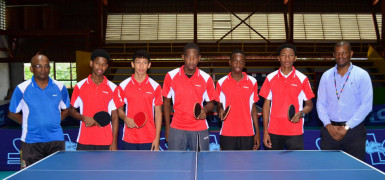 "There's no doubt about it if because if you look at Britton, he's a top player at both junior and senior levels and it's his last year at this level so he will want to do well.
"Elishaba is a very good young player who has been doing well while Kyle is the present national junior champion. Wong has been campaigning awhile now and the U15 youngster Romain is the number one U15 and Most Improved Player, so I'm hoping the guys' fire really good at this level," said Johnson.
Speaking about the team's preparation, the coach admitted that it was about three weeks since the team has been gelling, but said that he was satisfied with the work each player has put in during their own personal time.
"It was a short time but during that time we were intense. We worked on techniques and I feel confident that they did enough training. They also got help from the senior guys like Joel Allen, Godfrey Munroe and others so I think it was great motivation. Training as a team is different from training as a club so it's a great honour for those guys."
With stiff competition expected from over 11 participating teams, the Coach said it was important that the players did not "peak before time."
Johnson explained that the likelihood of Guyana finishing in the top four or even winning means automatic qualification for the Pan-American championships which will be held in California, USA.
He says he has to remain confident in the ability of his young stars. "I feel we could pull it off but other teams like Costa Rica and the Dominican Republic will be hard to beat because they get more exposure but we are going out there with one thing in our minds and that is to be champions, just like West Indies and we could do it, we have to keep the discipline."
Concluding his interview, Johnson noted the importance of the sponsors who came on board after he admitted that the logistical aspect of getting the team ready for an international championship competition was far from easy.
"I would like to thank the Sports Commission for the tickets, the Guyana Olympic Association (GOA) for coming up with the accommodation and others who chipped in. I would especially like to thank the president of the Guyana table Tennis Association (GTTA) Mr. Munroe. I think he did a great job he was behind it and he was putting his hand down in his pocket to get things done.
"Like I said, we are going with confidence. It will be a pleasure and a good opportunity for the guys because, unlike in our day when competitions used to be held at places which were kind of difficult to go to, these days it's much easier and we will try to ensure our players get the exposure, because we need them to understand the conditions," Johnson ended.
Meanwhile. GTTA President Munroe said that the tournament was very important for the development of the young players. He noted the importance of the team's training sessions which he said he was very pleased with while again dubbing the five young players as the "Next Generation," for Guyana.
Munroe concluded by expressing his optimism of the Guyanese doing well over the next few days while reiterating sentiments similar to that of Johnson's regarding the history-making chance of possibly securing a spot in the summer's Pan-American championship.
Around the Web