PORT OF SPAIN, Trinidad, CMC – English left-arm seamer George Corbett says he is keen on playing for Trinidad and Tobago Red Force in the first class championship, after a spell in the domestic league here for Queen's Park.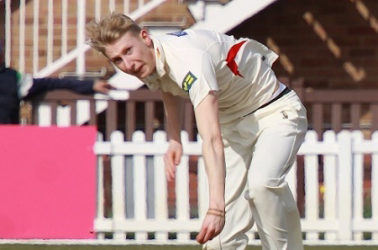 The 20-year-old, who plays for Leicestershire second XI back in England, said the experience here had left him desiring a taste of first class cricket in the Caribbean.
"I definitely want to play for the Red Force. It would be a fantastic chance to play with some great players in a great first class tournament that has lots of history and has produced some top international cricketers," said Corbett, who has come through the academy at Grace Road and captained Leicestershire at every age level from under-9 to under-17s.
"I would love to play professional cricket anywhere. That has been a dream of mine so anywhere I would be able to play would be great."
Corbett also turned out for Queen's Park in the national Twenty20 Championship which wrapped up last weekend, taking eight wickets for the eventual winners.
He said the experience in Caribbean conditions had been one which had provided challenges and allowed him to grow as a cricketer.
"It's been massive. It has been my first time away from home. Three months in a different country was a big culture difference just learning about my own game and having coming to a country not knowing anybody but learning about my game and myself and improving from there has been very good," Corbett said.
"It's so different from back home. The pitches [and] just the way cricket is played here is different. [It is] a lot more aggressive obviously with the flatter pitches and quicker outfields so it has been challenging as a bowler.
"The margin for error is so much smaller here so accuracy and building pressure is a lot harder out here so it has been a good experience and a challenge."
Comments

The Windward Islands Volcanoes booked their place in the final versus the Barbados Pride after beating the Guyana Jagaurs by 52 runs (D/L Method) in the rain affected second day/night semi-final of the Cricket West Indies Regional Super50 on Thursday at the Coolidge Cricket Ground.

Guyana Football Federation (GFF) President Wayne Forde yesterday acknowledged that he is aware of the letter signed by 17 referees demanding the removal of Head of the Referees Department, Stanley Lancaster.
Qwedada Fraser smacked 12 sixes on her way to an unbeaten 88, the highest individual score of the tournament so far, to lead Patentia Secondary to victory over L'Aventure Secondary in the female division of the 27th Annual Easter Term Windball cricket tournament.

Titans Table Tennis Club will serve off their inaugural Banks Smalta Supreme Junior Table Tennis tournament tomorrow morning at 9:00 hrs, at the Queen's College Auditorium, on Camp Road.

East Bank Cricket Association won the Demerara Cricket Board (DCB) Under-17 Inter-Association Tournament after beating West Demerara by 61 runs, yesterday at the Georgetown Cricket Club Ground, Bourda.