PORT OF SPAIN, Trinidad, CMC – English left-arm seamer George Corbett says he is keen on playing for Trinidad and Tobago Red Force in the first class championship, after a spell in the domestic league here for Queen's Park.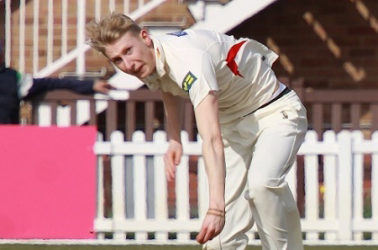 The 20-year-old, who plays for Leicestershire second XI back in England, said the experience here had left him desiring a taste of first class cricket in the Caribbean.
"I definitely want to play for the Red Force. It would be a fantastic chance to play with some great players in a great first class tournament that has lots of history and has produced some top international cricketers," said Corbett, who has come through the academy at Grace Road and captained Leicestershire at every age level from under-9 to under-17s.
"I would love to play professional cricket anywhere. That has been a dream of mine so anywhere I would be able to play would be great."
Corbett also turned out for Queen's Park in the national Twenty20 Championship which wrapped up last weekend, taking eight wickets for the eventual winners.
He said the experience in Caribbean conditions had been one which had provided challenges and allowed him to grow as a cricketer.
"It's been massive. It has been my first time away from home. Three months in a different country was a big culture difference just learning about my own game and having coming to a country not knowing anybody but learning about my game and myself and improving from there has been very good," Corbett said.
"It's so different from back home. The pitches [and] just the way cricket is played here is different. [It is] a lot more aggressive obviously with the flatter pitches and quicker outfields so it has been challenging as a bowler.
"The margin for error is so much smaller here so accuracy and building pressure is a lot harder out here so it has been a good experience and a challenge."
Comments

The Guyana government stepped in on Friday and bailed the Guyana Rugby Football Union (GRFU) out of its financial predicament allowing for the male and female rugby teams to compete at this year's Rugby America's North (RAN) 7s Championship this weekend in Mexico.

KOLKATA, (Reuters) – India's captain Virat Kohli staved off the threat of defeat before their fast bowlers ensured the hosts finished on a high in the drawn opening test against Sri Lanka in an enthralling final day at the Eden Gardens yesterday.

The 2017 edition of the Guinness 'Greatest of the Streets' George-town Championship was officially launched yesterday at the Thirst Park Sports Club.
NEW YORK, (Reuters) – A government witness in the U.S. corruption trial related to soccer's world-governing body FIFA testified yesterday about millions of dollars paid to former soccer officials in exchange for broadcasting and sponsorship rights for international tournaments, all logged in a secret spreadsheet.

Young Achievers Volleyball club was once again the dominant force on the Demerara volleyball circuit after downing their counterparts from the Vanguard Volleyball club in straight sets in the final of the Demerara Volleyball Association (DVA) Men's 'B' division playoff played at the National Gymnasium, Sunday evening.