CHESTER-LE-STREET, England, CMC – England all-rounder Ben Stokes has praised Marlon Samuels's match-winning knock during the Twenty20 World Cup final but accused the West Indies batsman of not being gracious enough in victory.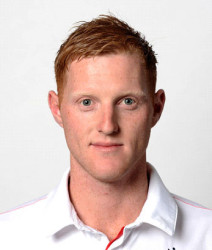 Samuels produced a sublime knock in the Kolkata final earlier this month, stroking a Man-of-the-Match unbeaten 85 off 66 balls as West Indies chased down 156 to win their second T20 World Cup with two balls to spare.
Stokes was chosen to bowl the last over with West Indies needing 19 runs but suffered at the hands of Carlos Brathwaite who blasted consecutive sixes off the first four deliveries.
West Indies batsman Marlon Samuels rips into Ben Stokes during the T20 World Cup final earlier this month.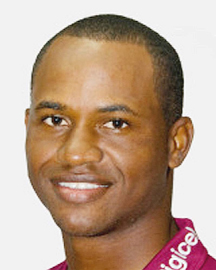 "I knew you had to let the winning team have ten minutes to celebrate winning the World Cup. At the same time, you have also got to play the game in the right way when it's finished," Stokes said as he prepared to turn out for Durham against Middlesex, in the English County Championship on Sunday.
"A few of those West Indies guys didn't do that – Marlon being one of them, which was unfortunate. He won't be on my Christmas card list or anything else really."
Stokes and Samuels have a history going back to England's tour of the Caribbean last year. Both players exchanged words during the second Test in Grenada, and it culminated in Samuels giving Stokes a sarcastic send-off with a military style salute, after the Englishman was dismissed in the first innings.
During the T20 final, both players engaged in verbal sparring while Samuels batted, and following Stokes's battering at the hands of Brathwaite, Samuels ripped into the deflated bowler.
The Jamaican was subsequently fined by the International Cricket Council over the incident. Stokes said Samuels's reaction following the victory had been uncalled for. "People have battles on the field but also you have to respect people who do well and he played a brilliant innings, he played a massive hand in winning them the World Cup," Stokes acknowledged. "You have to say, 'he got the better of us and of me that day'.
"But there's a fine line between having a battle and not being gracious in victory."
Around the Web