KINGSTON, Jamaica, CMC-The world's fastest man, Usain Bolt, has announced his intention to run on home soil for the first time in about two years.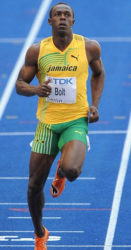 The 100 and 200m world record holder says he is eager to compete in Jamaica at the inaugural Racers Grand Prix, scheduled for the National Stadium on June 11.
"I am really proud of the effort being made to put on a meet, the first actual track club in Jamaica to do that," Bolt told journalists at the club's silent auction at the Jamaica Pegasus on Sunday.
"I am very proud of my coach (Glen Mills) for making this move and I know it is going to be a great meet".
Bolt is expected to be joined by compatriots Asafa Powell, Yohan Blake, Warren Weir, Hansle Parchment and world 100 metres hurdles champion Danielle Williams.
Overseas stars who have confirmed their participation include reigning 400 metres world champion Wayde van Niekerk, along with Americans Lashawn Merritt and Jason Richardson and Trinidad and Tobago's Kelly Ann Baptise.
"So far I know that there will be a lot of high calibre athletes coming to put on a good event [and] I will be there," said Bolt, who has not competed since winning the world title in Beijing last year.
"I haven't run in Jamaica for a couple years now, so I am looking forward to it and people should definitely come out and support because it will be good".
The six times Olympic gold medalist will launch a new season by competing in the Cayman Invitational on May 14.
"I am in good nick, training hard. My time trials are going well, my coach is happy, so everything is going well, and I am just looking forward to my first meet in Cayman," said Bolt.
"It is all about going there and executing right now and then everything should be fine from there. I am just going to take my time and work my way up and try to make sure everything is on point, try to stay injury free and just put in the work."