The Guyana Amateur Basketball Federation (GABF) has selected former national players Lugard Mohan and Abdulla Hamid to serve as head coaches for the boys and girls' U16 teams respectively for the upcoming Caribbean Basketball Confederation (CBC) championships in Guyana.
"GABF takes this opportunity to identify Mr. Lugard Mohan as the head coach for the U16 young men and Mr. Abdullah 'Zico' Hamid as the head coach for the U16 young women as Guyana prepares for the Caribbean Basketball Confederation (CBC) U16 Championships scheduled to be hosted in Guyana from July 2-17, 2016," a release from the GABF stated.
"The other coaches identified for inclusion in the coaching panel to prepare the National U16 teams are Ann Gordon, Mark Agard, Kevin Joseph, Kirk Fraser, Junior Hercules, Kevin Bonnett, Wayne Hinds, Willon Cameron, Julian Haynes and Dane Kendall.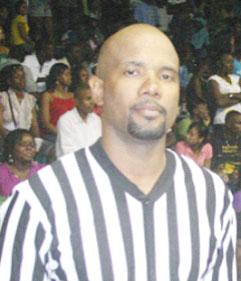 "The coaches are expected to benefit from USA-based Coaching Consultant, Mr. Larry Davis who will be hosted in Guyana to share his expertise with the coaches," it added.
Meanwhile, on another note, the GABF has declared its interest to participate in the International Basketball Federation (FIBA) sanctioned 3×3 U17 boys and girls tourney.
According to the same release from the entity, "The Guyana Amateur Basketball Federation (GABF) signaled interest to participate in the FIBA sanctioned (U17) 3X3 for Young Men and Women in the International Lesser Antilles 3×3 tournament for girls and boys born after January 1, 1999.
"3×3 basketball was inspired by several forms of street ball played worldwide and is considered the world's number one urban team sport. Guyana will hold a national qualifier as is a prerequisite by FIBA in determining the best male and female 3×3 teams to represent Guyana after September 2016 in an International Antilles 3×3 Tournament, with all airfare, accommodation and meals being funded by FIBA.
"The minimum requirement for the local qualifier is registration and participation of 15 teams each for both male and female. Guyana will be taking part in the U17 category for both male and females. Mr. Junior Andrew Hercules attended the FIBA Sponsored Workshop in Puerto Rico at the FIBA Americas headquarters, on the 6th to 8th of May as Guyana's appointed coordinator.
"The workshop was attended by 11 countries. 1. Guyana, 2. Saint Maarten, 3. Trinidad & Tobago, 4. British Virgin Island, 5. Barbados, 6. Grenada, 7. St Lucia, 8. Aruba, 9. St Vincent, 10. Antigua, 11. Curacao," the release added.
"The workshop exposed coordinators to the requirements and tools necessary for the execution of our tournaments in preparation for International Lesser Antilles 3X3 Tournament.
"Mr. Hercules was exposed to the web-based platform which will be used in scheduling and reporting on the national qualifier. All players will be required to register and confirm their registration on 3X3planet.com. Each registered, recorded and submitted game will add ranking points to Guyana.
"To assist Guyana in preparation for the national qualifier, FIBA Americas has provided 10 official 3×3 basketballs. FIBA has also committed to providing the winning teams with an all expense trip to the Lesser Antilles International Tournament.
"Basketball Players born on or after January 1, 1999 – get ready for 3X3 basketball. Youth Basketball is important to Guyana basketball development and the GABF will prepare and help to direct and develop youths using basketball as a vehicle," the document concluded.
Around the Web