There are precious few iconic dates and times in one's lifetime that come to mind with total recall as to when and where one was when a particular cataclysmic event took place. Some would recall vividly where they were when they got the news that President John Fitzgerald Kennedy was assassinated in Dallas, Texas on November 22, 1963, or what they were doing precisely when they heard that the Reverend Martin Luther King Jr was shot and killed in Memphis, Tennessee on April 4, 1968, or exactly what time and space they occupied on July 20, 1969 as Apollo 11 astronaut Neil Armstrong landed on the Moon, uttering triumphantly, "one small step for man, one giant leap for mankind."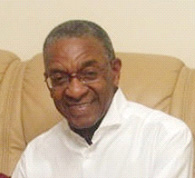 One such event albeit a sad one and to me one of similar magnitude as the aforementioned, occurred on May 11, 2016 – the sudden transition of West Indies cricket's foremost authority, the indefatigable Winston Anthony Lloyd Cozier, known to the world as Tony Cozier. It would be forever etched in my mind where I was when I got the shocking news that Tony had passed. It was about 12.30pm on that Wednesday, when in good spirits on a picture perfect day I arrived for my usual workout at the New York Sports Club gym in Brooklyn. I sat in front of my locker and checked for the latest news on my i-phone and there it was on the Stabroek News website, the announcement of the passing of cricket's most accomplished journalist.
Needless to say I sat motionless for a while in shock, staring at the floor beneath me and at my phone alternately in disbelief as I was unaware that Tony had suddenly taken ill let alone been hospitalized. Last Sunday as usual I checked the Stabroek News for Tony's weekly article and was surprised that it was not there. Naturally I then scanned the Cricinfo website and Tony's piece was not there either. I was disappointed but thought nothing of it as news of his illness had not filtered to these parts.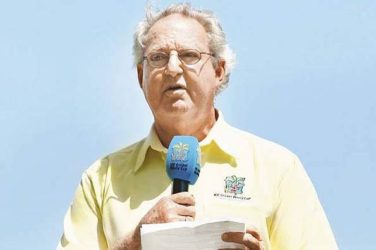 And so therein lies the gaping void that will remain unfulfilled as a massive cedar has fallen in the forest of our cricket world. One should never say never but it is safe to suggest that never again will West Indies cricket be chronicled with such authenticity, authority and expansiveness as it was for over 50 years by Cozier. And I would wager that through the latter half of the 20th century and well into the 21st century to the time of his passing Tony had published more of the printed word on international cricket and more particularly on West Indies cricket than any journalist in the long and storied history of the game.
His almost single-handed publications would include the Benson & Hedges West Indies Cricket Annual from 1970 to 1991, and thereafter the Red Stripe Caribbean Cricket Quarterly through the 90s, all chockfull of information from cover to cover including statistics, reviews, interviews, feature articles, obituaries, and worldwide match reports featuring Tests, One Day Internationals and regional West Indies and West Indian exploits. For relatively minimal contributions in compiling these voluminous reports over the years Cozier co-opted celebrated cricket journalists such as Dicky Rutnagur, Mike Coward, and Scyld Berry; and homegrown writers would include Ian McDonald, Tony Becca, Fazeer Mohamed, his son Craig Cozier, and myself as well as a few others. Tony would also complete reports under his own pen name 'Winston Lloyd'.
Amidst the maelstrom of cricket periodicals Cozier in 1978 penned the highly regarded book – The West Indies: 50 Years of Test Cricket, after which he collaborated with former West Indies captain Clive Lloyd on his first book – 'Living For Cricket' – published in 1980, and with renown West Indies fast bowler Michael Holding on his book 'Whispering Death' in 1993 – featuring the Jamaican's illustrious cricket career.
Any aspiring cricket journalist longed to be like Tony Cozier. I know I did. The quiet and unassuming easy-going Barbadian writer/TV broadcaster/Radio commentator was as gifted in his field as the great West Indies batsman Sir Vivian Richards was in his. He was a joy to watch in coverage at press boxes from Barbados to Brisbane and from Manchester to Mumbai as he moved perhaps like no other, seamlessly from his laptop to the TV microphone to the Radio headset, bringing to life not only the action on the field of play, but strategically interjecting stories that so accurately depicted the life and times of Caribbean peoples to the rest of the world. One of his signature assets was that he was a great storyteller almost of the caliber of say Paul Keens Douglas, and much like his compatriot pop icon  Rihanna, with all of his travels throughout the world in over 50 years, his Barbadian accent remained true to form and lent a special embellishment to his narrative.
Tony's reportage was always incisive, informative and factual and though one might have from time to time disagreed with his opinions, his purpose was invariably rooted in the advancement of West Indies cricket. Sadly as this legendary West Indian hero has passed from time to eternity, he was at loggerheads with the administration of West Indies Cricket Board, but happily he has departed knowing that there are no fewer than three ICC trophies in the West Indies trophy case.
Perhaps most fittingly former England captain Michael Vaughan who had picked West Indies to win the 2016 ICC T20 World Cup tweeted a profound description of what Tony Cozier meant to West Indies cricket … "So, so sad" he said … "Forget all the great players … Tony Cozier was the reason I loved West Indies cricket." Indeed the lofty standards that this iconic Bajan has set in all aspects of the field of sports journalism may never again be attained by us mortals.
Around the Web