(Reuters) – England captain Alastair Cook said it took him three years to feel comfortable with the responsibility of the job as he prepares to lead his team into a three-test series against Sri Lanka.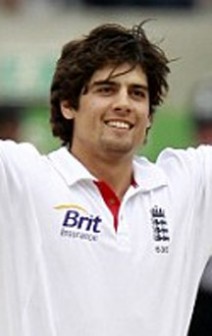 The 31-year-old took over as test skipper from Andrew Strauss in 2012 and endured a difficult time, particularly after a home defeat by the Sri Lankans two years ago which prompted widespread calls for him to quit.
He battled on, however, leading England to an Ashes victory on home soil last year before a rare triumph in South Africa, and his team are full of confidence ahead of the series against Sri Lanka which starts in Leeds on Thursday.
"It was a real tough moment for me as a captain, there's no doubt about that, but I'm glad I hung in there for what's happened since," Cook told reporters yesterday.
"It's probably taken me three years to feel comfortable in the job and, hopefully, I can carry on for a bit," he added.
"While I'm still enjoying it and while the guys are still responding I'm staying there."
Cook confirmed that fast bowler Steven Finn would play at Headingley in preference to the uncapped Jake Ball.
"He (Finn) has been outstanding when he's been fit for us," Cook said.
"It's great to have Jake along and he's made a big impact this year in county cricket. It's great for the guys who haven't seen too much of him to get to know the guy."
Cook needs 36 more runs to become the first Englishman to reach the 10,000-run milestone in tests and only the 12th player from any country to achieve the feat.
"It would mean a lot and, hopefully, I can get there sooner rather than later so we can talk about something else," he said.
"It's a big milestone in terms of the people who have done it previously so it would be great to try and score these 36 runs," Cook added.
"I've just got to try and do what I've done in the previous 10 years, which is just try and concentrate on that ball coming down and nothing else."
Sri Lanka have struggled to cope with the retirements of leading batsmen Kumar Sangakkara and Mahela Jayawardene, who piled up more than 24,000 runs between them in test cricket.
"They're irreplaceable but sides move on and evolve," Cook said.
"They've got a history of punching above their weight and are really, really competitive, no matter what's gone before."
Around the Web