Guyana Football Federation (GFF) President Wayne Forde said yesterday that vacancies which exist among the Committee Members and Judiciary Committees will be filled today when the Ordinary Congress is held at Herdsmanston Lodge, Queenstown from 11am.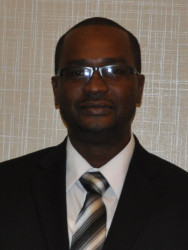 It will be the first congress staged by the new executive body since elections.
In an invited comment, Forde said: "We will be filling that position [Committee Member], they will be no challengers as we had asked the fraternity to name candidates and they did not. If any member had submitted a name it would have been an election.
"All the vacancies will be filled on the Judicial Committee which are the Appeals, Disciplinary and Ethics bodies, "Forde added, pointing out that those bodies are independent of the secretariat.
When pressed on the name of the individual that will be ratified to hold the post of Committee Member, Forde remained tightlipped. However, according to sources close to the GFF, Bartica Football Association (BFA) member Carmel Williams is allegedly the individual to be ratified in the position.
Prior to the GFF election, Guyana Defence Force (GDF) FC President Loring Benons withdrew. According to information, Benons's withdrawal was due to a decision by the GDF club to remain neutral ahead of then congress.
According to Forde, there will be discussions on the changes in the Financial Assistance Programme (FAP) arrangement from FIFA.
"There will also be discussions on the strategic vision for the Guyana Football Fraternity."
Around the Web