GEORGETOWN, Guyana, CMC-All-rounder Mitchell Marsh says he has fully recovered from injury and is relishing his return to the Australian side for their tri-series campaign in the Caribbean starting this week.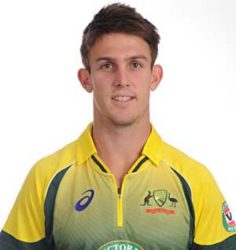 Marsh is part of the Australian squad which arrived in Guyana yesterday  after stopping in New York on Monday to reduce the impact of jet lag on their performances during the tournament which also involves South Africa.
Australia start their campaign in the tri-nation tournament against West Indies on June 5.
"We're obviously extremely lucky that Cricket Australia have allowed us to do that," said Marsh, the son of former Australian cricketer Geoff Marsh.
"We've had a chance to get out and about and see what the city has to offer but we're still focused on our task at hand over the next month and we're looking forward to getting to Guyana first."
Marsh, 24, is a fast bowler who can hit 140kph and has shown promise as a lower middle-order batsman.
A side strain forced him out of the Indian Premier League (IPL) this year but now the budding all-rounder says he is ready to perform in Australia's busy schedule in the coming months.
"It was a very minor injury, but a side strain is one of those things where you can turn a ten-day injury into a ten-week injury just like that, so it was best that I came home," said Marsh, who had to restrict his campaign with Rising Pune Supergiants.
"Whilst the IPL is a great tournament and I love playing in it, the country always comes first and the right decision was made."
A member of the 2015 World Cup-winning squad, Marsh is considered the preferred Test all-rounder who was able to squeeze Shane Watson out of the side during the 2015 Ashes tour of England.
"I think in the shorter formats, I've certainly gained a lot of confidence in both facets of the game and I consider myself a genuine all-rounder now," Marsh said.
"But in Test cricket, the proof is in the pudding, I haven't been able to make as many runs for the team as I would have liked. I'm hoping that over the next 12 months, that will change and I will be cemented at the No. 6 Test spot".
After the ODI series in the Caribbean, Australia take on Sri Lanka in a Test series in July-August.