The Guyana Amateur Powerlifting Federation (GAPF) has received assistance from Buddy's Gym and Sports Masseuse, Kathleen Paul, towards the staging of the Claude Charles Memorial Intermediate and Masters Powerlifting Championships set for Sunday at the Critchlow Labour College.
Paul, along with a Buddy's Gym representative recently presented a cheque for an undisclosed sum along with a gift certificate to Andrea Smith and Melissa Tucker of the GAPF.
Buddy's Gym has also shown interest in continued collaboration with the powerlifting federation with respect to fitness events and is desirous of becoming the gym of choice for the powerlifting team which is currently preparing to represent Guyana at the 14th IPF/ NAPF North American Regional Powerlifting Championships.
Sunday's championship is expected to usher in the return of one of Guyana's most seasoned and decorated powerlifters, 'Big' John Edwards (Master One) who will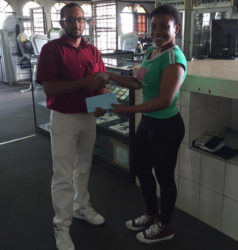 be making a comeback after three years.
Patrons can also look forward to participation from Winston 'Little Master' Stoby who will be competing in the Masters Two category.
Frank Tucker, President of the Guyana Amateur Weightlifting Association will also be competing in the Masters Three category along with Farouk Abdool of Hardcore Gym in Berbice.
Several young strongmen are expected to vie for supremacy in the Intermediate Category.
Best Lifter for Novices Unequipped 2016, Carlos Peterson, has already set the tone with his stellar performances in Berbice and is expected to better his previous total.
Best lifter for the equipped category Arif Immamdeen, of Elite Systems, will be competing but is expected to face fierce opposition for Sub Junior Powerhouse, Romario Gonsalves of Life Gym.
Seasoned bodybuilder and Ms. Physique competitor, Nadina Taharally, will   compete in the Masters One and Intermediate categories.
Much is expected of the two Unequipped females Lisa Oudit and Melissa Tucker whose Novice performances were quite impressive.
Lifting will commence at 10:30 and the price of admission is $500. Food and drinks will be on sale and there will be novelty events for members of the audience where prizes compliments of Fitness Express, the main sponsor, will be at stake.
There will also be guest lifting by some members of the team selected to represent Guyana at this year's Caribbean Powerlifting Championships in St. Croix, USVI in August.
Around the Web