South Africa turned on the heat last evening as their bowlers helped hand Australia a 47-run walloping in match three of the Ballr Day/Night Tri-Nations one day series played at the Providence National Stadium, yesterday.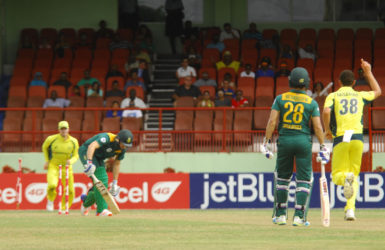 Chasing 190 for what would have been their second win of the tournament, Australia were steamrolled for 142 in 34.2 overs despite a gusty, stroke-filled 72 from opener Aaron Finch who smashed six fours and three sixes. Kagiso Rabada the 21-year-old speedster snared 3-13 while left-arm pacer Wayne Parnell chipped in with 2-23.
Left-arm spinner Aaron Phangiso (2-26) along with leg-spinners Imran Tahir (2-39) and debutant Tabraiz Shamsi (1-36) were brilliant during their spells, ensuring that the momentum stayed with their team throughout the innings.
South Africa were earlier kept to 189 in their 50 overs by virtue of a collective bowling outing led by fast-bowlers Josh Hazlewood (2-30) and Nathan Coulter-Nile (2-38). Spinners Glen Maxwell (2-15), leg-spinner Adam Zampa (1-46) and off-spinner Nathan Lyon (1-40) supported the seamers well.
Man-of-the-match Farhaan Behardien played an important hand, hitting four fours and a six in his top knock of 62 while meager support came from Hashim Amla (35), skipper AB de Villiers (22) and Quinton de Kock (18).
Parnell created the first opening by removing the dangerous David Warner who was given out lbw for a mere one run then Rabada followed shortly after with a good length delivery which undid Usman Khawaja for 02. South Africa would then tighten the screws with the wickets of skipper Steven Smith (08) and Maxwell (03) who were both out via lbw to Parnell and Shamsi, respectively. Mitchell Marsh (08) who hit one boundary but got a healthy outside edge and was caught by de Kock behind the stumps off Tahir.
Meanwhile, Finch continued to play his shots and took on the South Africa bowlers to reach his half-century but Rabada would land a double blow, removing the wicketkeeper Matthew Wade (02) who edged to de Kock and Coulter-Nile who was bowled for duck by a yorker.
Tahir won an lbw appeal to send Zampa packing without scoring and Finch's innings finally came to an end when he hit Phangiso straight to de Villiers at extra-cover. A slight shower passed the ground but when play resumed, South Africa wrapped up the innings with the wicket of Lyon who played a brave knock but was pinned lbw by Phangiso.
Earlier, opting to bat first in front a decent Guyanese crowd, South Africa got off to a brisk start after de Kock looked ominous, hitting two fours and a six off Coulter-Nile before Hazlewood had him out lbw leaving the score 29-1.
Top-scorer from the first game, Rilee Rossouw (07) wasted a review after he was struck on the pads by Lyon, only to have the decision by Richard Illingworth who had already given him out, remain. Amla was
joined by de Villiers and the two added 40 before an exceptional piece of fielding from Smith sent Amla back to the dressing room.
Duminy came out with the score 81-3 but witnessed the dismissal of his skipper who was bowled by Coulter-Nile for 22. With four wickets down, South Africa brought up their hundred a few overs prior to the half-way mark but Duminy's woes with the bat continued as he had his
stumps rattled by a delivery from Coulter-Nile which straightened just a bit, beating the bat of the left-hander.
Parnell (02) got a similar delivery from Hazelwood which sent his off-stump cartwheeling as the Aussies exhibited the same aggression they showed Sunday against the West Indies. Phangiso survived a shout as well as a review after being struck by Zampa, a delivery which replay showed would have missed the stumps.
Phangiso supported Behardien well during their 37-run stand but threw it away when he attempted a slog-sweep of Zampa only to be caught off the top-edge at long-on by Hazelwood. Behardien who was dropped on 41 after Hazelwood made a mess of a caught and bowled chance, reached fifty with a bludgeoning six over mid-wicket off Zampa.
The innings ended with two wickets for Maxwell who bowled the final over, bowling Behardien then having Tahir easily caught at long-off by Coulter-Nile. Match four will take place on Saturday in St Kitts between South Africa and Australia.
Scorebard
South Africa
HM Amla run out (Smith/Finch)                 35
Q de Kock† lbw b Hazlewood                        18
RR Rossouw     lbw b Lyon                              7
AB de Villiers*   b Coulter-Nile                    22
JP Duminy  b Coulter-Nile                            13
F Behardien b Maxwell                                  62
WD Parnell b Hazlewood                                  2
AM Phangiso c Hazlewood b Zampa               9
K Rabada  not out                                            15
Imran Tahir c Coulter-Nile b Maxwell            0
T Shamsi not out                                                 0
Extras   (lb 1, w 5)                                               6
Total     (9 wickets; 50 overs)                          189
Fall of wickets 1-29 (de Kock, 6.3 ov), 2-41 (Rossouw, 9.5 ov), 3-81 (Amla, 18.1 ov), 4-97 (de Villiers, 22.1 ov), 5-104 (Duminy, 24.6 ov), 6-112 (Parnell, 28.2 ov), 7-149 (Phangiso, 41.3 ov), 8-188 (Behardien, 49.4 ov), 9-188 (Imran Tahir, 49.5 ov)
Bowling: Hazlewood 10-3-20-2 (1w), Coulter-Nile 10-2-28-2 (2w), Lyon 10-0-40-1, Zampa 10-0-46-1 (2w),  Marsh 4-0-18-0, Finch 3-0-11-1, Maxwell 3-0-15-2.
 Australia innings
DA Warner   lbw b Parnell                                     1
AJ Finch  not out                                                    58
UT Khawaja   b Rabada                                           2
SPD Smith*  lbw b Parnell                                      8
GJ Maxwell  lbw b Shamsi                                     3
MR Marsh  c †de Kock b Imran Tahir                 8
MS Wade† c†de Kock b Rabada                           2
NM Coulter-Nile b Rabada                                   0
A Zampa lbw b Imran Tahir                                 0
NM Lyon lbw b Phangiso                                     30
JR Hazlewood   not out                                         11
Extras   (lb 5)                                                           5
Total     (all out; 34.2 overs)                               142
Fall of wickets 1-1 (Warner, 1.4 ov), 2-10 (Khawaja, 4.3 ov), 3-21 (Smith, 7.5 ov), 4-47 (Maxwell, 11.5 ov), 5-72 (Marsh, 16.3 ov), 6-83 (Wade, 19.4 ov), 7-85 (Coulter-Nile, 21.6 ov), 8-90 (Zampa, 22.5 ov), 9-113 (Finch, 30.3 ov), 10-142 (Lyon, 34.2 ov)
Bowling: Rabada 7-1-13-3,Parnell 6-1-23-2,Tahir 8-0-39-2,Phangisco 5.2-0-26-2,Shamsi 8-1-36-1
Result: South Africa won by 47 runs
Points South Africa 5, Australia 0
Man-of-the match: Farhaan Behardien .
Toss: South Africa.
UMPIRES: Ray Illingworth, Joel Wilson; TV-Nigel Llong.
Around the Web