Support for the Ministry of Health/Petra Organization Soft Shoe football championships continued yesterday with Juniors Jewellery Gallery and Pawn Shop donating a gold chain for the event's highest goal scorer.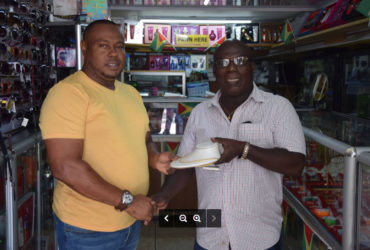 The donation was made at the entity's Robb Street location where Proprietor of the establishment, Ferdinand Bacchus, said: "On behalf of the company we make a donation for the event's highest goal scorer. I believe that football needs incentives like these to boost and motivate the players.
"This is our fourth year donating to the tournament and I hope that other businesses can come along and do the same," he added.
Petra Organization Co-Director Troy Mendonca thanked the company for the gesture and said that such donations act as motivation for the players involved in organized sports.
Mendonca, who thanked the company for its support, said that the event was being used to address the issue of Gender Violence which is very prevalent nationwide.