OAKMONT, Pennsylvania, (Reuters) – Little-known American Andrew Landry upstaged the game's biggest names on a frustrating day of multiple weather delays as he grabbed an early one-shot lead in the abbreviated first round of the U.S. Open yesterday.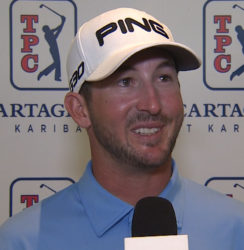 The 28-year-old PGA Tour rookie, competing for the first time in the year's second major, carded five birdies and two bogeys in 17 holes on a rain-softened but still brutal course at Oakmont Country Club outside Pittsburgh to get to three under.
Benefiting from accurate driving on a layout known as one of the most treacherous in golf, Landry was lining up a 10-foot birdie putt on his final hole, the par-four ninth, when the horn sounded to suspend play for a third time.
Just over half an hour later, play was suspended for the day as lightning strikes flashed, thunder rumbled and heavy rain swept across the course.
Twice Masters champion Bubba Watson, after 14 holes, and New Zealand's Danny Lee, after 13, were both at two under on a day when thunderstorms and heavy rain had already wiped out more than three-and-three-quarter hours of scheduled play.
Among the big names, defending champion Jordan Spieth was at one over after 11 holes, 2011 champion Rory McIlroy was four over after 13 and Masters champion Danny Willett four over after 12.
Only nine players completed the opening round and the best of them was American amateur Scottie Scheffler who, at the age of 19 in his first U.S. Open, carded a one-under 69 to hold the clubhouse lead.