Slingerz FC Head Coach Joseph Wilson said his team is eyeing history as they look to wrap up the 2016 Stag Beer Elite League tournament as unbeaten champs when they take on arch rivals Alpha United in tomorrow's grand finale.
Touted as one of the most anticipated football rematches in recent times, Slingerz, who beat the "Hammer" 3-2 last year, are currently unbeaten in the competition this year and will look to end their amazing run with a win over familiar foes.
Wilson, commonly called "Bill", told Stabroek Sports yesterday, that the encounter is very important and his players should look to make the most of their current form.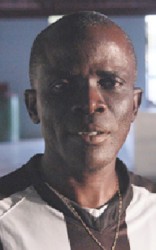 "That is important for the mindset of the team and of the players. At the end of the day, its history, every game and
tourney carries its own story. We are preparing for the challenge and we are trying our best to focus and give a 110 percent."
Asked how focused was the team, which disposed of Pele 3-1 in the semis, on solidifying their status as the number senior club, Wilson said: "Obviously when you play all these tourneys, it brings the pressure to succeed because peoples' expectations are great. We are just doing the same thing and hope to do it better."
He said that the team had grown leaps and bounds from their previous Successes.
"But there is always room for improvement and we are hoping to repeat the performance and event better it," he declared.
Quizzed about the progress of their preparation, Wilson said: "It is as usual, we don't have problems with it normally in terms of attitude, commitment and facility. It's nothing special."
According to the veteran Coach, there's so much that can be done to help motivate the players but come game time, the results can only be based on how well the team executes.
"I don't have control over the results, no team has that, we have control over commitment, effort and attitude.
"As a coach I try to motivate to get that out of them but the results we have no control over. Anything could happen that could determine the results, not only performance but other factors could determine result," he ended.
Around the Web