KINGSTON, Jamaica, CMC – World and Olympic champion Usain Bolt is facing a race against time to be fit for the Rio Olympics after he was forced out the Senior National Championships with a grade one tear of his left hamstring on Friday night.
The 29-year-old, seeking to win the 100 and 200 metres at a third straight Olympics, won his semi-final of the 100 metres on Friday night but then pulled out of the final with the injury in a shock development at the National Stadium.
In a subsequent media release, the world record holder in both sprints said he had requested an exemption from the rest of the championships and would now attempt to prove his fitness at the London Anniversary Games later this month on July 22.
The Rio Olympics are set to run from August 7-21.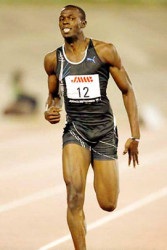 "After feeling discomfort in my hamstring after the first round last night and then again in the semi-final tonight I was examined by the Chief Doctor of the National Championships and diagnosed with a Grade 1 tear," Bolt's media release said.
"I have submitted a medical exemption to be excused from the 100m final and the remainder of the National Championships."
He added: "I will seek treatment immediately and hope to show fitness at the London Anniversary Games on July 22 to earn selection for the Olympic Games in Rio."
Bolt's coach Glenn Mills revealed that the icon had picked up the injury in the first round when he won his heat in 10.15 seconds on Thursday evening.
He returned on Friday to win his semi-final, clocking 10.04 seconds to beat out challenges from Senoj Jay Givans in 10.05 and Jevaughn Minzie in 10.07.
All eyes will now focus on Bolt for the next month as he tries to achieve fitness in time for what is expected to be his final Olympics.
He has had a lukewarm season by his standards, running 10.05 seconds in his season-opener at the Cayman Invitational in May and following up with a 9.98 seconds clocking at the Golden Spike in Ostrava later that month.
Bolt then raced to a season-best 9.88 seconds in the Racers Grand Prix here last month.
Around the Web