BRIDGETOWN, Barbados, CMC – Trinbago Knight Riders captain Dwayne Bravo has dismissed as "petty" the criticism of the composition of the Barbados Tridents squad for this year's Caribbean Premier League.
Tridents fielded a single Barbadian – but five Trinidadians – in their XI when they defeated St Kitts and Nevis Patriots by 25 runs in their last outing at Kensington Oval last Wednesday.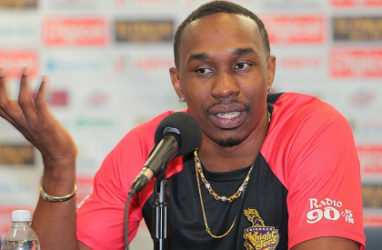 The side's composition prompted criticism from among some fans but Bravo said it was time the Caribbean adjusted to the idea of franchise cricket and took the focus off nationality.
"It's no longer island versus island, it's a franchise [system]. This is the fourth year of CPL and for that talk to be still floating around … just two years ago, [Kieron Pollard] won the title for Barbados and he was a big hero, he almost got a statue," the West Indies all-rounder told a media conference at Kensington Oval yesterday.
"It's a bit harsh when people begin to bring up this petty talk again. I think we should go past that as Caribbean people. This tournament does a lot, both regionally and internationally, for our young players and for the nation.
"At the end of the day, if Tridents go on to win, it's still Barbados Tridents getting all the praise and all the glory around the world."
The Tridents squad this year comprises four Barbadians – Raymon Reifer, Ashley Nurse, Kyle Corbin and Kyle Hope – after radically undergoing changes at this year's draft.
Familiar home faces like Dwayne Smith and Jonathan Carter were picked up by other franchises while West Indies captain Jason Holder was unavailable.
Bravo argued that the excessive focus on nationality was a negative approach and did nothing to help the Caribbean as a region.
"Last year, Trinidad and Tobago won the title and there was a big fight with the name – Trinidad and Tobago Red Steel or should it just be Red Steel," he recalled.
"We went on to win the tournament and it is Trinidad and Tobago's name that was called. It's very important that people move on from these petty things and understand the importance of what is trying to be built here in the Caribbean. It (franchise cricket) happens everywhere around the world, it's the same thing going on.
"I think that [type of thinking] is hampering us as Caribbean people, even in West Indies cricket it's the same thing: too much petty behaviour among ourselves as a people – our cricket is suffering, talent is being wasted and it's time to move on beyond those things."
Bravo will lead Knight Riders against Tridents in today's game at Kensington Oval.
Around the Web