BYDGOSZCZ, Poland, CMC – Jamaica picked up two more medals on the fourth day of competition at the IAAF World Under-20 Championships here yesterday, after CARIFTA gold medallists Shannon Kalawan and Nigel Ellis reached the podium in the women's 400 metres hurdles and the men's 200m respectively.
Kalawan, who set a championship record of 56.29 in Grenada last March, claimed silver when she finished behind American Anna Cockrell in 56.54, as the winner posted 55.20.
"My plan was to catch me if you can. I got an outer lane and Anna (Cockrell) was behind me and I know she is good enough to catch me so I just went out as hard as possible," said Kalawan.
"I really wanted to go on the podium because it was my first world junior and my last Jamaica national junior team so I am happy I got a medal."
Xahria Santiago of Canada finished with the bronze medal in 56.90.
Ellis took the bronze in the men's half lap won by American Michael Norman Jr. in a championship record of 20.17. Tlotliso Leotela of South Africa, who was among the fastest qualifiers, finished runner-up in 20.59 while Ellis clocked 20.63.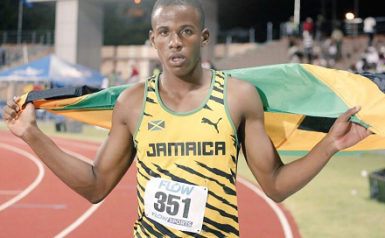 Earlier, Jamaica had mixed fortunes in the qualifying events including the sprint relays.
The Jamaican women's team and New Zealand were disqualified for lane infringement while the Czech Republic, Great Britain and Netherlands did not finish and Trinidad and Tobago did not start.
Jamaica, with Kimone Shaw, Patrice Moody, Shellece Clark and Vanesha Pusey, brought home the baton first in 44.63, followed by Spain in 45.10 to secure the two automatic spots from the first heat.
But the disqualification of Jamaica resulted in Spain and Ecuador advancing from the heat.
Jamaica men's team then benefitted from a disqualification, after finishing third in the second heat in 39.80 – promoted to second spot following a lane violation by Brazil.
Germany and the Jamaica quartet of Fabian Hewitt, Raheem Chambers, Jhevaughn Matherson and Hujaye Cornwall advanced as the two automatic qualifiers.
Michael Nicholls, Mario Burke, Kentoine Browne and Jaquone Hoyte of Barbados finished fourth in the final heat in a national Under-20 record of 40.14.
World Under-20 leader Jaheel Hyde demonstrated his eagerness to taste gold in the men's 400 metres hurdles with the fastest qualifying time of 49.77. He advanced to the final along with Kyron McMaster of the British Virgin Islands who clocked a season best 50.49.
Timor Barrett of Jamaica (51.38 PB) and Rivaldo Leacock of Barbados (52.22) did not qualify.
Sada Williams of Barbados pushed herself in contention for a medal with the second fastest qualifying time in the women's 200m semi-finals. Williams, another CARIFTA Games winner, ran impressively to clock 23.35 to trail Edidiong Ofonime Odiong of Bahrain who qualified with 23.19.
Jenae Ambrose of the Bahamas booked her place in the final with the third fastest time of 23.44. Shanice Reid (23.85) and Roneisha McGregor (23.94) of Jamaica failed to advance.
Perennial CARIFTA Games long and triple jumps champion Yanis David of the French Island of Guadeloupe won the long jump with 6.42 metres. Jessica Noble of Jamaica managed only 5.82 for the bottom position.
Jamaica are seventh in the medal table with a gold, silver and two bronze medals while Barbados and Trinidad and Tobago have a bronze each.
The United States lead the medal count with 13 including six gold medals with Cuba behind with three gold medals for a total of five.
Around the Web