NORTH SOUND, Antigua, CMC – An error-strewn performance, coupled with Virat Kohli's maiden Test double hundred and a third Test hundred by Ravi Ashwin, left West Indies facing a massive fight for survival in the opening Test against India here yesterday.
Kohli struck exactly 200 and Ashwin, 113, as India amassed 566 for eight declared in their first innings on the second day of the contest at the Vivian Richards Cricket Ground.
Amit Mishra deepened the Windies misery with a breezy 53 while wicketkeeper Wriddhiman Saha chipped in with 40.
Left with just over an hour to negotiate, West Indies lost Rajendra Chandrika for 16, to be 31 one for one at the close – still 535 runs behind the Indians heading into a challenging day three.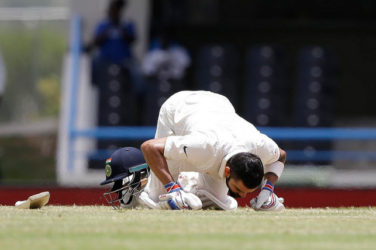 Vice-captain Kraigg Brathwaite was unbeaten on 11 at the close and was partnered by nightwatchman Devendra Bishoo, who was yet to score. Brathwaite and Chandrika batted solidly to add 30 before the right-handed Chandrika lost concentration and was caught behind by Saha, flirting with one from pacer Mohammed Shami that bounced and swung.
Much of the damage had been done earlier, however, when captain Kohli and Ashwin gathered runs at will against a toothless Windies attack, which went unsupported by fielders who grassed as many as four chances on the day.
Resuming on 302 for four, India dominated the first session without losing a single wicket as Kohli moved from his overnight 143 to his double hundred in the last over before the lunch break, when he clipped off-spinner Roston Chase to mid-wicket for a single.
He had reached his 150 in style in the third over of the morning, pulling captain and seamer Jason Holder around to the long leg boundary, and he eased to his next fifty with little alarm to become the first Indian captain to score a double century overseas.
Kohli, who put on 168 for the fifth wicket with Ashwin, perished in the first over after the break when he dragged on a wide ball from pacer Shannon Gabriel, without adding to his lunch time score.
All told, he faced 283 balls in 6-1/4 hours at the crease and counted 24 fours. Ashwin, unbeaten on 22 at the start, rode his luck when he was dropped on 43 by wicketkeeper Shane Dowrich in the morning's eighth over after nicking a drive at Gabriel.
He reached his half-century about 35 minutes before lunch with a delightful backfoot punch to the point boundary off seamer Carlos Brathwaite and was unbeaten at the interval on 64.
Following the loss of Kohli, Ashwin then anchored two successive half-century stands to push India past the 500-run mark. He put on 71 for the sixth wicket with Saha, whose innings required 88 balls and included a four and six, and then added a further 51 with Mishra, who blasted six fours in a 58-ball knock.
Ashwin eventually brought up his third hundred – all remarkably coming against West Indies – eight minutes before tea with a single to mid-wicket off leg-spinner Devendra Bishoo. Saha was the only casualty of the second session, when he came down to part-time off-spinner Kraigg Brathwaite, missed his stroke and was stumped by Dowrich at 475 for six.
Unbeaten on 106 at tea, Ashwin finally departed, holing out in the deep off Kraigg Brathwaite in the fourth over after the resumption, as India chased quick runs with the declaration in mind.
He struck 12 fours in an innings spanning 253 balls and just under 5-3/4 hours.
West Indies did themselves no favours, however. Holder dropped a sitter when Mohammed Shami (17 not out) skied Kraigg Brathwaite into the deep on seven, in an over that gushed 19 runs.
Chase then put down Shami on the ropes at deep mid-wicket in Kraigg Brathwaite's next over – the last of the innings – and a few balls later, Carlos Brathwaite missed a sharp chance at slip off Mishra, who collected four to bring up his fourth Test half-century.
Mishra then picked out Holder at mid-wicket off the very next delivery, to trigger the declaration.
Kraigg Brathwaite proved West Indies' best bowler with three for 65 while Bishoo claimed three for 163 and Gabriel, two for 65.
SCOREBOARD
INDIA 1st innings
(overnight 302 for four)
M Vijay c K Brathwaite b Gabriel                     7
S Dhawan lbw b Bishoo                                    84
C Pujara c K Brathwaite b Bishoo                   16
*V Kohli b Gabriel                                          200
A Rahane c Bravo b Bishoo                              22
R Ashwin c Gabriel b K Brathwaite               113
+W Saha st Dowrich b K Brathwaite               40
A Mishra c Holder b K Brathwaite                   53
Mohammed Shami not out                                17
Extras (b6, lb2, nb6)                                          14
TOTAL (8 wkts decl.,161.5 overs)                  566
Did not bat: I Sharma, U Yadav
Fall of wickets: 1-14, 2-74, 3-179, 4-236, 5-404, 6-475, 7-526, 8-566.
Bowling: Gabriel 21-5-65-2 (nb4), Holder 24-4-83-0 (nb2), C Brathwaite 25-5-80-0, Chase 34-3-102-0, Bishoo 43-1-163-3, K Brathwaite 14.5-1-65-3.
WEST INDIES 1st innings
K Brathwaite not out                                                   11
R Chandrika c wkp Saha b Mohammed Shami       16
D Bishoo not out                                                            0
Extras (lb1, w1, nb2)                                                    4
TOTAL (1 wkt, 16 overs)                                          31
To bat: DM Bravo, M Samuels, J Blackwood, R Chase, +S Dowrich, C Brathwaite, *J Holder, S Gabriel
Fall of wicket: 1-30.
Bowling: Sharma 6-3-12-0 (nb2), Yadav 4-3-5-0, Mohammed Shami 3-0-6-1 (w1), Ashwin 3-1-7-0.
Position: West Indies trail by 535 runs with nine wickets standing.
Toss: India.
Umpires: Aleem Dar, I Gould; TV – G Brathwaite.
Around the Web