The Boyce/Jefford Track and Field Committee on Saturday launched oneof Guyana's premier sporting events for 2016, the seventh annual Boyce/Jefford Classic.
The event will be held August 27-28 at the Mackenzie Sports Club ground and details of the upcoming calendar event were disclosed during a press conference at the Sports Maxx Store located in the Giftland Mall Saturday.
It was announced that athletes from Jamaica, St Vincent and the Grenadines, Grenada, Trinidad, Antigua, and the United States of America are to match strides with the locals in the international events.
It was also disclosed that the top club will pocket the $1M prize along with the coveted trophy.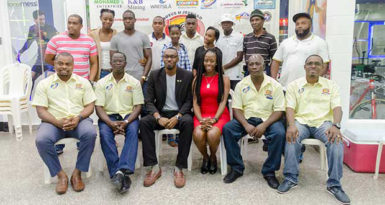 The prize money will continue all the way to fourth place, with the second place club taking home half that amount. Third place is set to receive $300, 000, while the fourth place club will be $200, 000 richer.
According to chairman of the Boyce/Jefford Committee, Colin Boyce, the fixture is two-fold since it will aid in the development of athletes and provide them with much needed financial support for their respective clubs.
"Athletes deserve much more than what they're receiving now and we thought it fit that we, as former athletes, recognize the need to put cash prizes into the clubs because of the arduous training that the athletes have to go through," said Boyce.
He added: "We would have seen other sporting events receiving healthy cash prizes and so this year we would have seen the need to increase the cash prizes to a healthy $1M for the first prize, so those clubs that are represented here can vie for a healthy package."
Co-chairman of the Committee, Edison Jefford, said that the annual fixture would be nothing without its sponsors which for the second consecutive year includes government's support through the National Sports Commission.
On hand to speak of the government's contribution was Director of Sport, Christopher Jones, who also commended the organisers.
Digicel has also returned as a sponsor, among others.
Around the Web