NORTH SOUND, Antigua, CMC – West Indies' batting collapsed for the second time in as many days as India crushed them by an innings and 92 runs inside four days in the opening Test here yesterday to take a 1-0 lead in the four-match series.
The Caribbean side, following on by 323 runs, were bundled out for 231 in their second innings, 25 minutes after tea at the Vivian Richards Cricket Stadium as their disappointing 14-year winless streak against the Indians dragged on.
Requiring nothing short of a miracle in order to save the game after resuming the day on 21 for one, West Indies got a top score of 51 not out from Carlos Brathwaite, exactly 50 from Marlon Samuels, a career-best 45 from tail-ender Devendra Bishoo and 31 from opener Rajendra Chandrika, but their efforts all fell short.
Their nemesis proved to be off-spinner Ravi Ashwin who crippled the innings with a near career-best seven for 83 to claim his 17th five-wicket innings haul in Tests.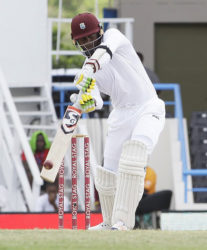 West Indies' embarrassment could have been far worse, especially after they dramatically – but not uncommonly – lost six wickets for 44 runs in quick time, to plunge to 132 for eight just over an hour after lunch.
But Brathwaite and Bishoo came together to delay the inevitable with a 95-run, ninth wicket stand which frustrated India and pushed West Indies to 201 for eight at tea, in an extended session after time was lost in the first session to rain.
The right-handed Brathwaite, who got a first-ball 'duck' in the first innings, stepped up the second time around with a knock combining patience with his usual aggression.
All told, he stroked three fours and two sixes – both clean straight hits – in an innings lasting 83 deliveries and 111 minutes while Bishoo hardly put a foot wrong in striking six fours and a six off just 74 balls.
Brathwaite, unbeaten on 38 at tea, reached his third half-century in only his third Test with a dab behind point off leg-spinner Amit Mishra, 20 minutes after the break.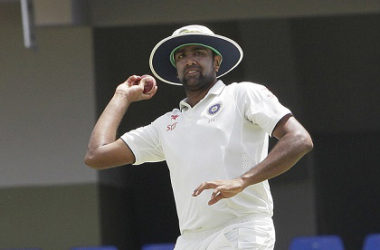 The left-handed Bishoo was going well and appeared untroubled when he suddenly threw caution to the wind and chanced his hand, but only succeeded in smashing Ashwin straight to Cheteshwar Pujara at mid-wicket, in the following over.
Shannon Gabriel swatted the first ball he received to the mid-wicket boundary but then had his stumps rattled off the next delivery, as Ashwin sealed the emphatic win.
Samuels had earlier carried the fight for West Indies with his 23rd Test half-century that came from 85 balls and 115 minutes and included 11 dazzling fours.
The Jamaican's services were required early in the day when overnight batsman Darren Bravo perished to the fifth delivery of the morning without adding to his ten, caught in the slips by Ajinkya Rahane off seamer Umesh Yadav with no addition either to the overall score.
Samuels and Chandrika came together to prop up the innings in a 67-run, third wicket partnership, that saw West Indies to lunch at 76 for two.
Things fell apart afterward, however. Chandrika, unbeaten at lunch on 22, added just nine before he was adjudged caught at the wicket for 31 off Ashwin in the sixth over after the interval, though replays showed the ball missing the bat.
Ashwin then claimed Jermaine Blackwood 12 balls later in his next over, caught at short mid-wicket by Virat Kohli without scoring for the second time in the game, to leave the Windies on 92 for four.
Samuels raised his half century 20 minutes after the break with a single off leg-spinner Amit Mishra behind square but he lasted only 11 more deliveries before perishing, deceived by one from Ashwin that drifted past his defensive prod and kissed off-stump.
Debutant Roston Chase (8) and wicketkeeper Shane Dowrich (9) both made little impression on the innings and Holder struck a four and a six in 16 before he was bowled, missing a wild heave at Ashwin, to give the Indian supremo his first five-wicket haul outside the Asian subcontinent.
Scoreboard
INDIA 1st innings 566-8 decl.
WEST INDIES 1st innings 243
WEST INDIES 1st Innings (following-on)
(overnight 21 for one)
K Brathwaite lbw b Sharma                     2
R Chandrika c wkp Saha b Ashwin      31
DM Bravo c Rahane b Yadav               10
M Samuels b Ashwin                            50
J Blackwood c Kohli b Ashwin              0
R Chase c sub (KL Rahul) b Ashwin    8
+S Dowrich lbw b Mishra                     9
*J Holder b Ashwin                             16
C Brathwaite not out                           51
D Bishoo c Pujara b Ashwin               45
S Gabriel b Ashwin                              4
Extras (nb5)                                        5
TOTAL (all out, 78 overs)             231
Fall of wickets: 1-2, 2-21, 3-88, 4-92, 5-101, 6-106, 7-120, 8-132, 9-227, 10-231.
Bowling: Sharma 11-2-27-1 (nb3), Shami 10-3-26-0 (nb1), Yadav 13-4-34-1, Ashwin 25-8-83-7, Mishra 19-3-61-1 (nb1).
Result: India won by an innings and 92 runs.
Series: India lead the four-match series 1-0.
Man-of-the-Match: Ravi Ashwin.
Toss: India.
Umpires: Aleem Dar, I Gould; TV – G Brathwaite.
Around the Web