MANCHESTER, England,(Reuters) – James Anderson, Moeen Ali and Chris Woakes took three wickets apiece as England completed a thumping 330-run win over Pakistan on the fourth day of the second test at Old Trafford yesterday.
Chasing a mammoth 565 for victory, Pakistan found batting no easier second time round and were dismissed for 234 in the final session as England levelled the four-match series at 1-1.
"It's quite nice to bounce back and play like that," said captain Alastair Cook. "You have to consign the last test to the bin.
"Joe Root's performance, stepping up to number three in the order from four, was so controlled. We all know what a world-class player he is, he didn't put a foot wrong."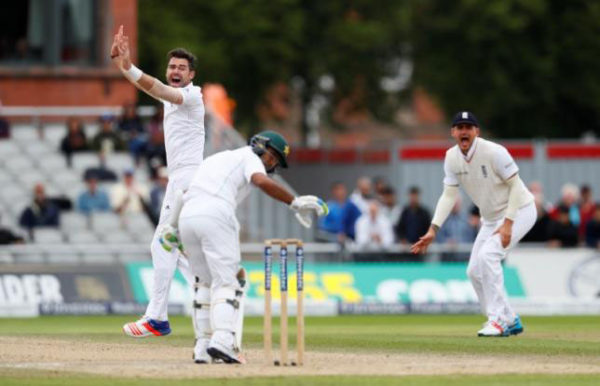 Root was named man of the match after following his brilliant 254 in the first innings with 71 not out in the second.
Anderson got the ball rolling for England on Monday when he removed Shan Masood for one, the opener edging a ball to Cook at first slip, before he also trapped Azhar Ali plumb lbw for eight.
Younus Khan then had a left-off before lunch when he was dropped in the slips by Cook off Ben Stokes.
It proved a frustrating day for Stokes who later limped off with a calf injury.
Opener Mohammad Hafeez looked reasonably secure but fell on 42 when he was caught by Gary Ballance at short-leg off a full delivery by Moeen.
Younus continued to live dangerously and his patience snapped when he tried to launch a Moeen delivery over the long-on boundary but was caught inside the rope by Alex Hales for 28.
INSIDE EDGE
Captain Misbah-ul-Haq smashed Moeen for six and played aggressively for his 35 before he was bowled by Woakes off an inside edge just before tea.
Sarfraz Ahmed was caught down the leg-side by wicketkeeper Jonny Bairstow off Woakes for seven, Anderson trapped Asad Shafiq lbw for 39 and Moeen had Yasir Shah lbw for 10.
Wahab Riaz top-edged Joe Root to Cook at short fine leg for 19 and Mohammad Amir, after making an entertaining 29, drove Woakes to Stuart Broad at mid-off.
Earlier, Cook and Root piled on the runs in the morning session, the captain making 76 not out as England declared on 173 for one.
"This is a big disappointment for us," said Pakistan skipper Misbah. "We could have scored around 400 in the first innings (instead of 198), the ball wasn't doing anything much.
"We are short of confidence and shot selection really cost us. These guys are strong characters though, mentally strong, and I'm hopeful that everybody is hurt and they will really work hard."
The third test in Birmingham starts on Aug. 3.
SCOREBOARD
England 1st innings 589 for 8 decl (J. Root 254, A. Cook 105, C. Woakes 58, J. Bairstow 58)
Pakistan 1st innings 198 (Misbah-ul-Haq 52; C. Woakes 4-67)
England 2nd innings (Overnight: 98-1)
A. Cook not out                     76
A. Hales c S. Ahmed b Amir             24
J. Root not out                     71
Extras (lb-2)                     2
Total (for 1 wicket declared, 30 overs)         173
Fall of wickets: 1-68 A. Hales
Did not bat: J. Vince, G. Ballance, B. Stokes, J. Bairstow, M. Ali, C. Woakes, S. Broad, J. Anderson
Bowling: M. Amir 11 – 2 – 43 – 1 R. Ali 8 – 0 – 54 – 0 Y. Shah 9 – 0 – 53 – 0 Az. Ali 2 – 0 – 21 – 0
Pakistan 2nd innings (Target: 565 runs)
M. Hafeez c Ballance b Ali             42
S. Masood c Cook b Anderson             1
Az. Ali lbw b Anderson                 8
Y. Khan c Hales b Ali                 28
Misbah-ul-Haq b Woakes             35
A. Shafiq lbw b Anderson             39
S. Ahmed c Bairstow b Woakes             7
Y. Shah lbw b Ali                 10
W. Riaz c Cook b Root                 19
M. Amir c Broad b Woakes             29
R. Ali not out                     8
Extras (b-2 lb-4 nb-1 w-1)             8
Total (all out, 70.3 overs)             234
Fall of wickets: 1-7 S. Masood,2-25 Az. Ali,3-83 M. Hafeez,4-102 Y. Khan,5-145 Misbah-ul-Haq,6-163 S. Ahmed,7-167 A. Shafiq,8-190 Y. Shah,9-208 W. Riaz,10-234 M. Amir
Bowling: J. Anderson 16 – 2 – 41 – 3 S. Broad 14 – 3 – 37 – 0 B. Stokes 5.2 – 0 – 21 – 0(w-1) M. Ali 18.4 – 1 – 88 – 3(nb-1) C. Woakes 15.3 – 2 – 41 – 3 J. Root 1 – 1 – 0 – 1
Referees Umpire: Kumar Dharmasena
Umpire: Rod Tucker TV umpire: Joel Wilson
Match referee: Richie Richardson
Result: England won by 330 runs.
Around the Web