Long before the advent of batting armor like helmets and chest pads, and before the glamour of color coordinated cricket gear, a gifted 16-year- old schoolboy named Garfield St. Aubyn Sobers in 1952, bareheaded and in basic white, emerged from a mundane district called Bayland in St. Michael, Barbados to set  the cricket world on its ear.
In less than two years he rose from club cricketer for Police in Barbados Division 1  to Test cricketer for the West Indies in 1954 against England. The rest as they say, is history.
The hallmark of his storied 20-year Test career since then was his artful combination of elegance and grace with versatility and power which produced a synergistic effect that earned him the universal acclaim of genius. He redefined the craft of batsmanship, and more particularly, left-hand batsmanship.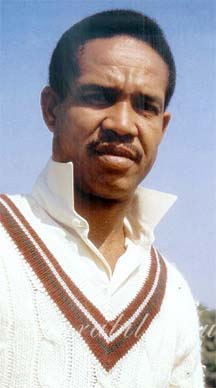 Sobers' adroitness in technique and strokeplay erased the traditional awkwardness associated with left-handed batsmanship, and set new standards of excellence for lefthanders. And then came Clive Lloyd, Roy Fredericks, Alvin Kallicharran, Larry Gomes and his personal annointee Brian Charles Lara. So, on this special day July 28, 2016 it is most appropriate that Barbados, the Caribbean and indeed the world pause to celebrate the 80th birthday of the island nation's only living legend and the 62nd anniversary of his divine entry into Test cricket.
To most West Indian cricket fans, particularly those who were fortunate to have witnessed the virtuosity of this super hero unfold and contemplated the magnitude and the meaning of his career to the region, it must be disappointing that this landmark is not observed with the same fervor in every territory in the Caribbean as it is in Barbados. Indeed Sir Garfield Sobers, like West Indies cricket, transcends narrow territorial borders and even the vast blue Caribbean Sea.
And is cricket not the single instrument of real integration in the Caribbean community?
The overall success of West Indies cricket in the modern era even in its volatility has provided Caribbean peoples with a welcome diversion from their political and economic woes and elevated them psychologically. In his distinguished sojourn, the charismatic former West Indies captain generally revered as the world's greatest all-rounder undoubtedly played a significant role in that process. In fact Sir Garfield should not only be celebrated in the lore of West Indies cricket, but should be immortalized in the annals of West Indian history, and woven into the rich tapestry of Caribbean culture.
Ninety-three Test matches, 8,032 runs at an average of 57.78, 26 centuries including a previous world record of 365 not out at age 21, 235 wickets and 109 catches; yet those statistics do not adequately reflect the magnitude of Sir Garfield's achievements or remotely recapture the poetry of his phenomenal performances. Nonetheless one could take license to ponder the phenomenon of this West Indian icon as one compares the monumental accomplishments of a few of the greatest batsmen (not all-rounders) of all time: Sachin Tendulkar – 200  Tests – 15, 921 runs – average 53.78, 51 centuries; Kumar Sangakkara – 134 Tests –  12, 400 runs – average 57.40, 38 centuries; Ricky Ponting – 168 Tests – 13, 378 runs – average 51.85 – 41 centuries; Brian Lara – 131 Tests – 11,953 runs  -average 52.88, 34 centuries; Shivnarine Chanderpaul – 164 Tests – 11, 867 runs – average 51.37 – 30 centuries.
To have experienced the flair and finesse of this extraordinary athlete was to have witnessed a masterpiece come to life on the canvas of Pablo Picasso, or to have savored the timeless musical artistry of Charlie Parker, or to have sat in enjoyment of an exhilarating evening of evergreen lyrical renditions of the Mighty Sparrow.
Some magical innings of note that Sobers would recall vividly include the aforementioned 365 not out against Pakistan at Sabina Park in 1958; 254 for the Rest of the World against Australia in 1971 considered by none other than the late Sir Donald Bradman as the best innings he had ever seen; and 160 for Nottinghamshire against Surrey at the Oval in London in 1970 entering the fray as captain with his team on 15 for 3, after he was roundly booed by demonstrators who objected to his controversial visit to South Rhodesia.
Quite apart from the singular blemish on his resume that was his 1970 ill-advised visit to Ian Smith's South Rhodesia now Zimbabwe to play in a double wicket competition, Sir Garfield's career was the embodiment of the ideal of sports with the underpinning of fair play. And despite his considerable congenital gifts and lofty achievements he never lost the common touch and would not hesitate to offer advice to any young player, or literally give one the shirt off his back. I know. He gave me a pair of his cricket boots back in 1971. His demeanor and his integrity much like his strokeplay were flawless.
In the volume 'Arlott & Trueman on Cricket' edited by Gilbert Phelps and published by the BBC in 1977, the late lamented commentator John Arlott said of Sobers, "Genius. It's an over-worked word and it is too often used in talking about people who don't deserve it. But in the case of Gary Sobers there can't be any argument about it. He must be the greatest instinctive genius, with bat or ball, there has ever been."
Around the Web