West Indies Under-16 selectee Qumar Torrington believes a good showing in the upcoming 50-over Invitational which bowls off in England next week could strengthen his chances of making the West Indies U-19 team in the future.
The 15-year-old Demerara Cricket Club (DCC) pacer, who along with Ashmead Nedd and Sachin Singh received maiden call ups to the Regional youth side, told Stabroek Sport yesterday that he was aiming to bag a lot of wickets and will try as much to ensure his time in England is productive to help him break into the West Indies U-19 side.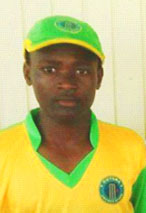 "It feels great being selected for the U-16 team, it's a golden opportunity and it's like a dream come through for me at the age of 15 to be playing in England for the West Indies", said an elated Torrington. He was also ecstatic about being accompanied by friends and teammates: Nedd and Singh.
"It's good to go to England with the guys from Guyana because we grew up together and played a lot of cricket so I think it will help to ease the nerves", he said. Apart from his personal joy, the young bowler admitted that his selection did not only put a smile on his face but also on the faces of his family who were equally overjoyed. "My family was excited and they felt really happy for me", he said.
A steady performer in the local arena, Torrington who was also a part of the victorious Guyana U-15 team said he will be looking to make the most of his stint in England, adding that he's currently soaking up some advice from club coach Garvin Nedd who he said has been working with him.
"I'm aiming to get the most wickets in the tournament and possibly the Most Valuable Player (MVP) award. In terms of preparation, I've been working with Coach Nedd and he's giving me tips to bowl in England".
The Guyanese players will wing out to England next Tuesday and will play six matches across different venues against some of the top English youth sides.
Around the Web