The Guyana Cricket Board (GCB) yesterday broke new ground when the organisation officially launched its Jaguars Franchise League 3-day tournament which is set to bowl off its first round of matches from August 26-28.
Executives of the GCB including Raj Singh, President Drubahadur, Secretary Anand Sanasie, Territorial Development Officer (TDO) Colin Stuart, and Chairman of National Selectors Rayon Griffith, unveiled the board's plan to improve and widen cricket professionally on the local scene.
Eight teams and approximately 100 cricketers from across Guyana inclusive of Upper Corentyne (Nigg to Skeldon), Lower Corentyne (Albion to New Amsterdam), West Berbice, East Coast Demerara, Georgetown, East Bank/Upper Demerara, West Demerara and Essequibo will play in seven rounds of tough competition every Friday, Saturday and Sunday until the tourney culminates.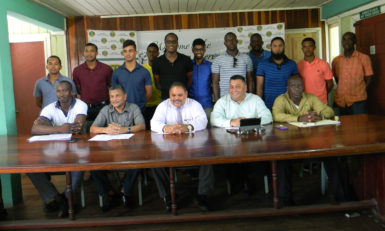 The new league, which abolishes the draconian age of inter-county cricket, will have a total of four matches being played per round while venues such as the legendary Bourda Ground, Albion, Everest, Wales, Port Mourant, Iman Bacchus Ground (Essequibo) and others will be utilised for the competition.
Players will be paid $5000 per day and Sanasie said the venture which is thus far, solely facilitated financially by the GCB, will be sustained for the first year but he hopes that sponsors could get on board early and take advantage of owning one of the eight franchises, thus lightening the load on the GCB as the initiative progresses.
Currently Guyana has about 33 cricketers who are under contract with the West Indies Cricket Board (WICB) and Cricket Guyana Inc (CGI) which deals with the players during the Professional League Regional 4-Day and Super50 season.
The respective franchises will now benefit from an even distribution of talent as much of the top players were sent to different teams in order to breed competition as well as to help the younger players to learn from their senior teammates.
Each franchise is also expected to have their own base ground facility for practice, training and games along with their own set of officials as the franchise formats expand to the 50-over and T20's which are slated for next year. Meanwhile contracts between the franchise owners and GCB clearly outlining each party's duties and responsibilities with the local Boards are also to be signed at a later date. (Alexander Ross)
The contracted players and the management officials have been allocated as follows:
Upper Corentyne: Devendra Bishoo, Anthony Bramble, Assad Fudadin, Clinton Pestano, Coach – Winston Smith, Manager/Assistant Coach – Delbert Hicks
Lower Corentyne: Veerasammy Permaul, Surujnarine Kandasammy, Raun Johnson, Coach – Julian Moore, Manager/Assistant Coach – Andre Percival
West Berbice: Keon Joseph, Gudakesh Motie, Shimron Hetmyer, Coach – Adrian Amsterdam, Manager/ Assistant Coach – David Black
East Coast Demerara: Rajendra Chandrika, Paul Wintz, Steven Sankar, Chanderpaul Hemraj, Coach – Esuan Crandon, Manager/ Assistant Coach – Jitlal Jowharilall
Georgetown: Leon Joseph, Christopher Barnwell, Robin Bacchus, Dexter Solomon, Coach – Colin Stuart, Manager/ Assistant Coach – Garvin Nedd
East Bank/Upper Demerara: Vishaul Singh, Trevon Griffith, Steven Jacobs, Sherfane Rutherford, Tevin Imlach, Coach – Clive Grimmond, Manager/Assistant Coach – Rohan Sarjoo
West Demerara: Raymon Reifer, Tagenarine Chanderpaul, Akshaya Persaud, Romario Shepherd, Kemol Savory, Coach – Rayon Griffith, Manager/Assistant Coach – Dhanpaul
Essequibo:  Shivnarine Chanderpaul, Ronsford Beaton, Keemo Paul, Kevon Boodie, Anthony Adams, Coach – Michael Franco, Manager/ Assistant Coach – Forbes Daniels
Around the Web