Digicel continued its support of cricket in Guyana by becoming the latest sponsor while national all-rounder Chris Barnwell also made a timely donation to the Demerara Cricket Club's (DCC) ongoing annual Summer Camp.
The telecommunications company, which is the official sponsor of West Indies cricket, yesterday presented the youths of the camp with a monetary donation as well as numerous Digicel branded caps and water bottles among other items.
Accepting the cheque from Digicel's Communications Manager Vidya Bijlall-Sanichara, was DCC President Alfred Mentore who said that with Digicel being a part of the DCC family in recent times, he was hopeful that the support would continue.
Mentore added that while most of the backing for the camp which is Almost a decade old, has helped DCC to churn out on average 10-12 national players a year, he was hopeful that this year's camp will see another large number of attendees continuing down the path of cricket.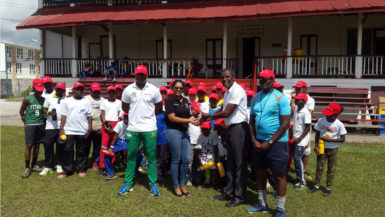 He also pointed out that the camp, which was originally scheduled to run for two weeks, has been receiving such good support from corporate Guyana, it has now allowed them to extend the camp for another  week.
Barnwell, the West Indies and Guyana T20 all-rounder who is also a product of the camp, donated a bat and a pair of gloves which will be presented to the best performer at the end of the camp.
Barnwell, who is a Digicel ambassador, thanked the company for supporting the annual event which he said has been playing important roles in development of cricket in Guyana.
He added that when he was younger he was not able to be a part of a summer camp of such magnitude and as such, has now dedicated a few days to help coach the youngsters of his club with the hope that most if not all will pursue a career in cricket.
Bijlall-Sanichara, during her remarks, said Digicel was happy to support the venture as they strive to ensure sports remain a crucial part of the Guyanese culture. She noted that with an ambassador like Barnwell on board, they will continue to back the club and its futureventures.
Around the Web