Add another first place trophy to Orville Hinds' and Team Evolution's (TE) cabinet.
Yesterday on the outer circuit of the National Park, Hinds rode off with the spoils of the feature 15-lap event of the inaugural Flying Star Cycle Club multi-race memorial programme.
His seventh victory for the season which came in a brisk one hour, 24 minutes and 10 seconds was the 28th for his team in the 35 open races staged this season including both held this weekend.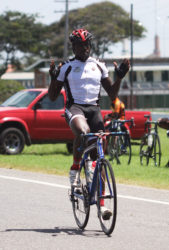 Race after race, TGE cements its status as the premier club on the local cycling circuit.
The club's dominance was underlined by his club mate, Akeem Wilkinson joining him on the podium and Hinds pocketing all but one of the seven sprint prizes on offer. W.S United's Raphael Leung who placed third, snared the other.
Hinds' teammate, Michael Anthony out sprinted Shaquel Agard to place fourth and earn the last paid position.
The event, a memorial one for past prominent members of the club, started at a fast clip with the top three leading the 30-man peloton from the smoke of the pistol.
Hinds, Wilkinson and Leung rode in tandem to stave off the valiant efforts of the chasers until Hinds switched to time trial mode and went on a solo mission at the bell lap.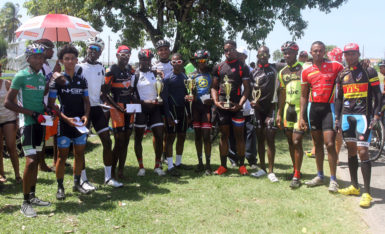 The 26-year-old in his crisp black and white team kit eventually rode to victory unchallenged after Wilkinson protected his teammate by keeping Leung in check. Leung battled for the second sport but Wilkinson's superior sprinting prowess ensured that Team Evolution defied the odds to finish 1-2 in the event.
Quick Results
Seniors 
1st Orville Hinds
2nd Akeem Wilkinson
3rd Raphael Leung
4th Michael Anthony
5th Shaquel Agard
6th Christopher Griffith
Juniors
1st Andrew Hicks
2nd Nigel Duguid
3rd Christopher Cornelius
Masters Under 45
1st Warren McKay
2nd Jaikarran Sukhai
3rd Junior Niles
Masters Over 45
1st Ian Jackson
2nd Paul Choo-Wee-Nam
3rd Raymond Newton
Around the Web