RIO DE JANEIRO, Brazil, CMC – Triathlete Flora Duffy shrugged off the disappointment of failing to end Bermuda's 40-year wait for a second Olympic medal and vowed to try again in Japan in four years' time when she will be 32.
Duffy – one of eight Bermudians competing in Rio – said she was almost relieved to come through her third Olympics unscathed and believes she laid down an important marker for 2020.
"I think this is a big breakthrough for me, so I think I can keep going for another four years."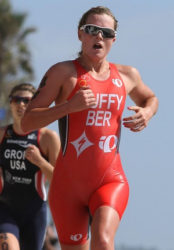 Duffy, who had emerged as a "dark horse" for a medal after a slew of fine performances this season pushed her to the top of the world rankings, finished eighth out of more than 50 starters in Saturday's women's triathlon.
Although she led for the first two of eight laps of the bike race, Duffy was never able to put any significant daylight between herself and the leading runners.
"I felt like I had the handbrake on all of the way," she said afterwards.
"I was eighth on an off day and I'm very happy with that. It's the Olympics and if you don't get in the top three no one cares. I'm really proud, though, and I hope everyone in Bermuda is," added Duffy, who crashed at the London Games in 2012 after failing to finish in Beijing four years earlier.
Duffy finished in one hour, 58:25 minutes, some two minutes behind pre-race favourite American Gwen Jorgensen who claimed gold in 1.56:16.
Nicola Spirig-Hug, 34, the defending champion from Switzerland, came second in 1:56:56, while Vicky Holland outsprinted Non Stanford, her Great Britain team-mate, to finish third in 1:57:01.
"I know everyone was hoping I'd get a medal but there are only three of them and it doesn't work out like that sometimes," said Duffy, who finished the swim in 19:08, the bike in 1:21:29 and the run in 36:15.
"A lot of people were throwing my name out there as a dark horse and I just tried to stay out of the limelight. I've had a great season so far and I'm not upset with eighth."
Meanwhile, Duffy returns to action on September 3 in the World Triathlon Series in Edmonton, Canada, where she came second last year, looking to preserve her lead at the top the women's world rankings.
Around the Web