KINGSTON, Jamaica, CMC- Head coach of Jamaica's national football team, Winfried Schaefer, says the Reggae Boyz are aiming to surprise their critics when their bid to qualify for the next FIFA World Cup enters a critical stage next week.
Jamaica faces Panama in a crucial World Cup qualifier next week Friday in Panama City before taking on Haiti four days later. In a statement released on Monday, Schaefer said the Reggae Boyz are hoping to replicate the success of the country's gold winning Olympians at the just ended games in Brazil.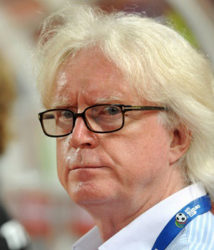 "Elaine Thompson and Omar McLeod, Shelly-Ann Fraser-Pryce, Shericka Jackson and Usain Bolt inspired and deeply impressed us, as much as so many others who fought hard but weren't able to win a medal this time," Schaefer said.
"In a few days Jamaican football has the chance to impress and inspire and we, the national team, believe in the same values. We believe in team play and loyalty and we are confident that we'll be able to surprise our critics". The Jamaicans are in third place in Group B on four points, behind group leaders Costa Rica on 10, followed by Panama on seven points.
The top two teams from each of the three groups will advance to the final round of CONCACAF World Cup qualifying from which the top three teams earn automatic places to the 2018 FIFA World Cup Finals in Russia. "We prepared and prepared as good as possible and we aren't afraid to fight against unfavourable circumstances. What always keep us going are the people of Jamaica," said Schaefer.
"We want to make you proud. The friendliness and support I experience here in Jamaica every single day, on the street, at the market, in the office, wherever I go, is an outstanding inspiration and I'm very thankful." The 23 men squad for the games has not yet been released but the players are expected to assemble in Panama City by next Tuesday to begin final preparations to face the Central Americans.
The Reggae Boyz defeated Chile two-one in a friendly encounter recently before losing nil-one to Venezuela, nil-two to Mexico and nil-three to Uruguay  in the Copa America Centenario in the United States of America.
Around the Web