Youths of the Malteenoes Cricket Club (MCC) summer camp yesterday benefited from a highly interactive session conducted by national batsman and guest speaker, Assad Fudadin.
The week-long camp which bowled off on Monday at the club's Thomas Lands venue, profited from the special forum led by the Guyana/West Indies Test opener Fudadin, his Amazon Warriors teammate and Malteenoes player, all-rounder Steven Jacobs and ex-West Indies pacer Reon King all of whom spoke to the youngsters about properly equipping themselves with the necessary tools to become cricketers.
The seminar was held at the club's pavilion where about 60 young, potential players got a chance to soak up some first-hand advice from the trio of cricketers who have played at nearly all the top levels of the sport. Fudadin who played three Test matches for the West Indies opened the floor by telling the teens that he was "privileged" to be chosen as the guest speaker.
Speaking a little on his experiences coming up, the 31-year-old made it clear to the attendees that they were very lucky to be involved in such a programme as he wasn't not that fortunate as a teen to be a
part of anything similar.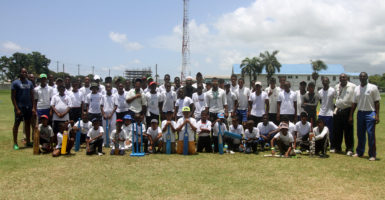 "First off all I'm privileged to be here and so should you because hundreds of kids are not getting the opportunity to be in camps like this so you should try and grasp a lot and learn from the coaches over the next week".
The left-hander, during his near hour-long sitting, answered numerous questions from the youngsters in the audience such as tips on batting, how to prepare for an innings, dealing with emotions when playing, training, fitness and respect for one's teammates and opponents.
As a batsman, Fudadin encouraged the youths to spend more time in the nets and make the sessions count.
He said world-class players whom he had spoken to in the past like Kumar Sangakkara and Hashim Amla said nets played crucial roles in the development of their legendary careers.
Some of the key aspects of cricket were being happy with your game as a player and sticking to one's own identity with regards to ensuring that as a professional one must always maintain the self-belief.
Additional areas such as playing fast-bowling properly, whether you're an opener or a middle-order batter were discussed while the significance of communication when batting with a teammates was also classified as vital.
Most importantly, Fudadin, a staunch Muslim said that one's personal life has the most impact when you're a professional cricketer. "As players we need to maintain order and respect in your personal life as it reflects in your career."
He gave examples such as being obedient to your parents, training consistently, respecting the game and the rules.
King and Jacobs who made brief remarks during the forum, basically reiterated the advice of Fudadin which was to
work hard on their game, stay confident, always seek advice and remain respectful to the game.
Around the Web