Barbadian units Cosmos and Gall Hill as well as LP local outfit Fruta Conquerors were among the winners yesterday when the Caribbean Children Charity Shield Soccer Classic commenced at the Camp Ayanganna ground.
Cosmos dismantled Pele 4-1 with Jaylon Gilkes scoring twice while Lario Prescod conversion and an own goal sealed the result. On target in the loss was Jamal Scott.
Gall Hill downed Alpha United 2-0 through goals from Shakeel Browne and Kale Greenidge while Fruta Conquerors defeated Creek FC of Trinidad and Tobago 2-0. Joshua Ferreira and Rondel Noch scored for the Tucville unit. In the u15 section, Gairy John of Trinidad and Tobago defeated Wales FC 1-0 compliments of an Anthony Mohammed strike. Also, Gall Hill of Barbados defeated Victoria Kings 2-0. Daimor Clarke and Ari Jones scored in the win.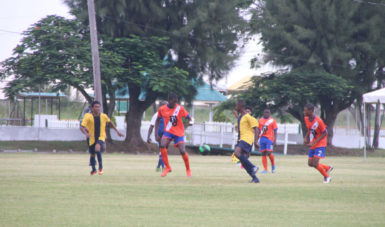 Barbadian unit Empire crushed Waterford Compton 4-0 with Shaelius Wickham, Jahmari Hutson, Leevon Butcher and Jashawn Kirton scoring.
The event, which will be played over a five day period, will feature teams from Trinidad and Tobago as well as Barbados battling their Guyanese counterparts.
In the u17 section, Cosmos, Fruta Conquerors, Creek, Grove Hi-Tech and Eastveldt will feature in Zone-A while Zone-B comprises  Gall Hill, Blackwater, Paradise of Barbados, Alpha United and Santos.
Group-A in the u15 section comprises Gall Hill, Gairy John, Wales, Morvant Academy, Den Amstel and Victoria Kings while group-B features Waterford Compton, RP Warriors, Grove Hi-Tech,Paradise FC, Elcock Academy and Empire.
Up to press time, several matches were being contested. The event will resume at the same venue with another round of group matches. Prior to the tourney's start, an official march past was staged.
Around the Web