Guyana's badminton team won a silver medal in the team events of the annual CAREBACO champions after losing 2-3 to the Dominican Republic in an exciting final Tuesday at the Caribbean Badminton Championships in Aruba.
Guyana's Narayan Ramdhani lost to Cesar Brito 11-21, 15-21 and Ambika Ramraj  was beaten by Nairobi Jimenez 4-21, 6-21 at the Dominican Republic took an early 2-0 lead.
Guyana, however, rebounded by taking the boys doubles match through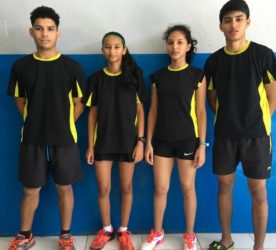 Narayan Ramdhani and Jonathan Mangra who defeated Wilmer Brea & Bryan Castro 21-16, 21-9.
Priyanna Ramdhani and Ambika Ramraj then defeated Carmen Garcia and Francesca Matias 21-9, 21-7 to level the match.
However, Jonathan Mangra and Priyanna Ramdhani lost to Argenis Marinez & Nairobi Jimenez in the mixed doubles final.
Earlier Guyana defeated Suriname 3-2 in the semi-finals with Jonathan Mangra winning his singles match before teaming up with Narayan Ramdhani to win the boys' doubles.
Guyana duly reached the final when Narayan Priyanna Ramdhani won the mixed doubles encounter.
The Guyana players are now participating in the CAREBACO regional championships which is Open only to Caribbean member countries.
Around the Web