ST.JOHN'S, Antigua,  CMC- Antigua and Barbuda's sports minister Chet Green has announced that there will be a "major" shake-up at the Ministry of Sports as part of plans geared at boosting the country's profile in international sports.
Green's announcement comes on the heels of the Olympic Games in Brazil where a nine member delegation representing track and field and swimming failed to pick-up a medal.
Green, who also attended the games, said the changes will come into effect by year end and will involve a review of the elite coaching programme and the school's incubator programme.
"There will be major changes made within the Ministry of Sports as we go on our quest to build on this platform, on this interest and the excitement and on the expectations of the Antiguan and Barbudan people," Green announced on his return from Brazil.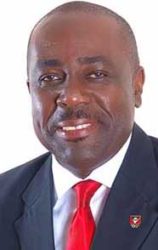 "I am not going to sit here and simply say,  I inherited one coach. I know there is a problem and I think it is part of the responsibility given to me to fix the problem".
Antigua's best performer at the Rio Olympic Games was Cejhae Greene who advanced to the semifinals of the men's 100 meters.
He clocked 10.13 seconds to finish seventh in the second semifinals but failed to qualify for the finals.
The team was also plagued by injuries after sprinters Daniel Bailey and Miguel Francis were forced to withdraw from their respective events as well as the 4X100 meters relay.
"I am announcing this morning [Monday] for the first time that with the energies I came back with from Rio, with my vision for going forward that rightsizing [that] putting the right persons in the right positions in the Ministry of Sports is part of what we have to do if we are going to get results," the sports Minister stated.
Green said he was satisfied with the work of sports administrators in the country but conceded that he does not share the same sentiment for the cadre of coaches and the programmes they supervise.
He said part of the shake-up will zero in on the schools programme which, according to him, has been underperforming.
"The persons who are coaching in Antigua, at the elite level, have all been coaching 30 or so years …coaching has really evolved over the same period and I don't know that a lot of them would have kept abreast with the development or changes in coaching,"Green said.
"The incubator programme for all of this expectation is the schools programme and so there has to be changes made at that level. The schools programme is underperforming; it is not delivering. We have to up our performance rating in the international arena".
Around the Web