FORT LAUDERDALE, Florida,  CMC – The contentious Memorandum of Understanding and Collective Bargaining Agreement, was among the topics thrashed out at a players symposium staged here Wednesday by the West Indies Cricket Board.
For four hours, members of the Twenty20 squad along with retained players, interfaced with controversial WICB president Dave Cameron, WICB chief executive Michael Muirhead, chief selector Courtney Browne and players' union president, Wavell Hinds, on issues such as the Future Tours, International Cricket Council events and the WICB finances.
Regional first class players were afforded access to the symposium via tele-conference.
And while the meeting at times became "contentious", Cameron said the process was aimed at "finding amicable solutions" to some of the burning issues facing West Indies cricket.
"The ongoing dialogue aimed at finding amicable solutions is the main aim for us as an organisation and we are keen on confronting the issues facing us as we seek to enhance the overall cricket product," the Jamaican administrator said.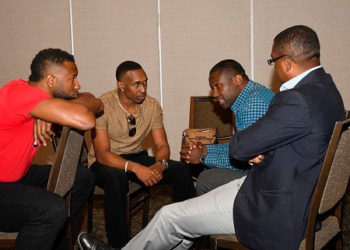 "We will continue the dialogue. We will encourage players to voice their concerns through an appropriate medium. We will work together for a solution.
"We know the players are the most important features of our brand and we wish to engage them as is necessary and required to be more competitive on and off the field."
The symposium comes on the heels of a breakdown in relations between the board and the players over the last two years, with the MOU/CBA emerging as one of the sticking points.
A clash between the players and the board resulted in the abandoned tour of India in 2014 and more recently, players openly criticized Cameron and the board following the regional side's capture of the Twenty20 World Cup in India.
Former Test batsman, Daren Ganga, now a sport administrator with the University of Trinidad and Tobago, gave the keynote presentation where he focused on the 'responsibilities of a professional athlete.'
Cameron, whose leadership has repeatedly come under scrutiny during his tenure, said the session had been a "solution-oriented" one. "The WICB continues to make efforts to facilitate the best environment for players," he said. Among the players attending the symposium was Test captain Jason Holder, T20 captain Carlos Brathwaite along with leading T20 player Chris Gayle.
The event was held ahead of West Indies' T20 double-header against India here this weekend.
Around the Web