Guyana has so far secured five silver medals alongside one bronze medal at the 2016 Caribbean Pre-Cadet Table Tennis Championships at the National Arena in Kingston, Jamaica.
On Wednesday in the Girls u13 Doubles, the team of Abigale Martin and Neveah Clarkston claimed silver after losing to Trinidad and Tobago by a 3-2 margin. Similarly, in the Boys u13 Doubles, the team of Kaysan Ninvalle and Niran Bissu secured the silver medal.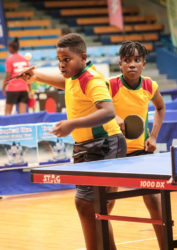 Meanwhile in the u13 Mixed Doubles, the unit of Ninvalle and Martin went down to Trinidad and Tobago to lay claim to the silver medal.
On Tuesday at the same venue, Guyana secured their first silver medal in the Boys u13 Team event as the team of Ninvalle, Isaiah Layne and Bissu went down to Trinidad and Tobago.
Similarly, the Girls u13 Team of Thuraia Thomas, Clarkston and Martin also secured a silver medal, losing out to Trinidad by a 3-1 margin. In the u11 category, the team of Colin Wong, Dhanesh Persaud, Krystain Sahadeo and Alexander DeAbreu secured bronze after defeating Barbados.
The event will resume today, with Ninvalle, Layne, Bissu and DeAbreu going for gold in the Boy's u13 Singles and Martin and Clarkston aiming for gold in the Girls u13 Singles Division respectively.
Also, Thomas will compete for silverware in the u11 Girls Singles while Wong, Persaud and Sahadeo will participate in the u11 Boys Singles.
Around the Web