DeMarcus 'Chop Chop' Corley and Dexter 'The Cobra' Gonsalves kept throwing punches in the cool night air.
They kept throwing and throwing and were attacking with such frenzy Saturday night at the Giftland Mall that it seemed plausible that the WBC FECARBOX lightweight title fight would be continued in the parking lot until one of the warriors dropped.
But at the end, Corley, 42, out slugged Gonsalves, 24, in a definite local fight-of-the-year to claim the title by majority decision before an electric crowd at the Pattensen edifice.
The ringside judges scored the brutal contest, 113-113, 115-110 and 113-112.
The headline bout on the 'Bad Intentions' card surely delivered beyond all expectations.
Gonsalves (8-1-3, 5 KO's) charged out of the gate and he waged a fast pace in the opening round, dropping the former world champion with a crisp right hand to the chin.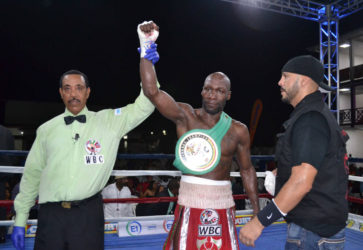 Corley (48-27-1, 26 KO's) was dazed but used his experience to keep the wiry Gonsalves at bay. He regrouped and asserted himself in the second but the busier Gonsalves took that round also.
In the third round, the 'Cobra' was able to counter Corley coming in on a number of occasions, and wobbled him several times and eventually dropped him again with a thunderous right hand to the temple but the American native never wavered.
In rounds four and five, Corley negated Gonsalves' reach by keeping the fight on the ropes and landing several telling combinations.
During round six, the southpaw Corley unloaded on Gonsalves, pinning him to the ropes and sent him to the canvas twice. A wobbly Gonsalves barely survived arguably the longest round of his career and trudged back to his corner. With Corley smelling blood like a shark in the water, he came out searching for the home run punch but the slippery 'Cobra' hung on and evaded the kitchen sink 'Chop Chop' threw at him.
Gonsalves seemed to catch a second wind in round eight and both fighters stood toe-to-toe at the centre of the ring trading blows much to the delight of the fight fans. The ensuing rounds were pretty much a carbon copy of round eight and could have gone either way as the two tireless gladiators gave all they could and then some.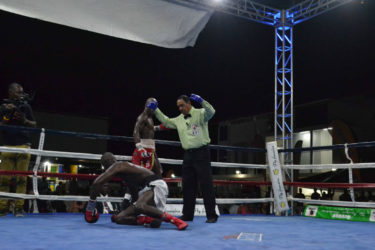 Gonsalves showed that he could handle the pressure of not only a top fighter, but the big stage. He had never faced a fighter of Corley's calibre, but proved that he is indeed the best fighter currently representing the Golden Arrowhead with Clive Atwell on the mend.
"I take my hat off to Dexter," said the wily Corley in a post-fight interview. The veteran of more than 70 pro fights who had fought the likes of Floyd Mayweather Jr, Miguel Cotto and Zab Judah added: "He gave me a great test, he gave me what I came for and more."
Quizzed on a rematch with the 'Cobra', 'Chop Chop' stated "I look forward to going home and taking some time off and thinking about the next step."
Undercard results:
Mark Austin versus  Richard Holmes
Winner Holmes (TKO round two )
Imran Khan versus Quincy Gomes
Winner Gomes (six rounds, Unanimous Decision)
Kelsie George versus Charwin Ethwick
Winner Ethswick (four rounds, Unanimous Decision)
Keeve Allicock versus Anthony Narine
Winner Narine (DQ)
Around the Web