The four international pitches at the Guyana National Stadium,Providence, are currently undergoing a massive overhaul and curators are confident that the new pitches will be of the highest standard once completed.
In recent times the pitches across the Caribbean and Guyana especially have come under immense scrutiny. The West Indies/India Test at the Queen's Park Oval, Trinidad was abandoned after 22 overs due to poor facilities while the recent T20 series between the same two teams in Florida saw Sunday's second t20 game unable to be completed because of a wet outfield.
Those two matches highlight the importance of having not only good pitches but equally good ground/draining systems.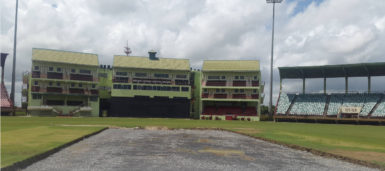 Ever since its birth back in 2007, the Providence facility has been more renowned for its remarkable drainage system rather than its pitch.
Known by most cricketers as a pitch which offers more to the spinners, recent work on the four international pitches could see a  livelier track once it is completed in the months to come.
When Stabroek Sport visited Providence yesterday, Wasim Habib, the man in charge of the project, spoke briefly regarding the work being carried out to ensure Providence sits among the best cricket facilities in the Caribbean.
Habib explained that a backhoe was used to dig up roughly five inches of sand from under the original pitch which they then replaced with "Crush and Run", the same material which is used to build roads.
The next stage which Habib and his men are currently at, deals with the packing of some eight inches of quality soil which he said they acquired from the Enterprise Ground.
"What we are trying to do now is add the soil then begin to level it off and it will be ready for use in the next three to four months or a bit more."
The head curator added that only the four main pitches, those with carry stump mics and cameras and are mainly used for international games, are the ones being revamped currently but added that two additional pitches will be reserved ahead of the Regional cricket season which begins in November.
While the task to create a new pitch is a technical job, Habib also confirmed that things are going smoothly thus far and he expects that the job will be completed in time, without any interruptions.
Around the Web