Following his gold medal winning exploits at the recent Pre Cadet and Caribbean Table Tennis Championships in Jamaica, Kaysan Ninvalle was presented with a Samsung Galaxy S7 Edge from corporate giants Gizmos and Gadgets.
Ninvalle secured Guyana's only gold medal of the tournament when he defeated Jalen Kerr of Trinidad and Tobago 11-8, 9-11, 11-7, 9-11, 11-9 in the boys U11 final at the National Indoor Sports Arena in Kingston.
Speaking to media operatives following the presentation ceremony, the rising star said that he was ecstatic about his gold medal showing.
"I feel good because it is the first time going out of the country to represent Guyana and winning a gold in the under 11 category," he said.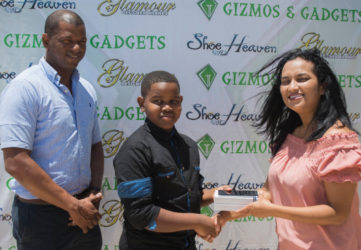 According to Ninvalle, he is focused on continuing to represent the country later in the year during the month of November and that his objective is to mirror his current achievements in future sojourns.
Meanwhile, Gizmos and Gadgets Manager Sophia Dolphin said the company was always pleased to support young athletes.
"Because he did extremely well with the gold, we are bringing on young people doing extremely well and so on."
She added that while the initial intention was to give a laptop, it was decided to give him the phone which is the newest edition because he is already in possession of the former.
"We decided to give him a smart phone and people might ask why Gizmos gave him a luxurious phone because it is an S7 Edge which is the newest phone. It is much easier because he intends to travel a lot and he already has a laptop so we didn't want to give him another laptop, we decide to give him the Samsung S7 Edge to manoeuvre around", she added.
President of the Guyana Table Tennis Association (GTTA) Godfrey Munroe said: "Kaysan represents one of our brightest prospects, I think he played unbeaten in the under 13 year and under team events and then he went down to the 11 years and under championships where he won the singles event which just underlines the potential he has because he plays far beyond his years."
Around the Web