The Georgetown Cricket Association (GCA) in partnership with the New Building Society (NBS)  yesterday launched its limited overs second-division competition.
The brief ceremony was held at the NBS Head Office, North Road and Avenue of the Republic.
GCA President Roger Harper and a few executives of the company were present at the briefing.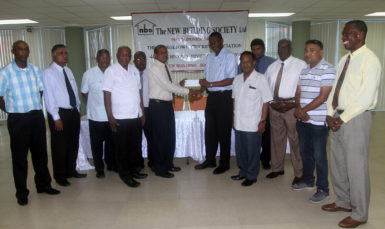 Harper, a former Guyana and West Indies player,  said the competition has a rich history of producing quality national and West Indian players.
According to Harper, last year alone churned out 12  such players with one player being West Indies Under-19 wicket-keeper/batsman Tevin Imlach.
Harper, the present coach of the Guyana Amazon Warriors, noted that while the competition is concentrated especially around Georgetown, more players from the other counties have been getting involved.
Floyd McDonald  Chairman of NBS, said that the company was always seeking to contribute to the sport in a meaningful way.
He explained that NBS was looking to play positive roles not only in the city  but across the country, adding that the company's motto is "Value for money".
As part of developing fast-bowlers in Guyana, the tournament will place special attention on the pacers who perform well.
McDonald said that he believed that the initiative to produce more fast bowlers was a good one.
"I'm glad that emphasis is being placed on fast-bowling because it brings about excitement in the  game, " he said.
Wishing the GCA the best  with the competition Mc Donald, a former Commission of Police said: "Cricket is here to stay and will be around for a long time."
The competition will bowl off this weekend.
Around the Web