Massy United Insurance, of Lot 126F Carmichael Street, Georgetown, are the sponors of today's fourth annual golf tournament at the Lusignan Golf Course.
Tee-off time is 1pm.
Today's tournament will be played on the open medal play system. 1st to 4th best Net, Nearest The Pin, Best Gross and most honest Golfer prizes are up for grabs.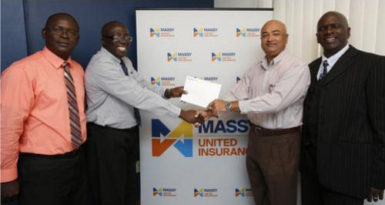 According to a press release, the tournament was postponed for almost four months due to incessant rainfall which left the grounds and access road in poor shape.
This necessitated remedial work on the club's access road through collaboration between Macorp, Mohan Jacob, Director for Design & Construction with American based construction company EMR Inc. and the club's executives, stated the release.
Branch Manager Lindel Harlequin indicated that "Massy United Insurance is pleased to be involved in promoting Golfing in Guyana."
Club President Oncar Ramroop, in expressing gratitude on behalf of the Club to Harlequin, said:"We are highly appreciative of the good faithful support that we have had from Massy United Insurance in four years of sponsoring tournaments, and we are grateful that Mr Harlequin is also enthused at continuing this great support. We at Lusignan Golf Club are quite delighted that Massy not only provides such support but also offers great insurance coverage to the Club."
Around the Web