"And the winner is Cleveland Forde" seems to be the recurring theme of the annual Massy Guyana 10km road race.
The 'Little Kenyan' continued his dominance of the event yesterday, running away with the men's title for the sixth consecutive year, showing that the last minute change of the course must have been the only thing that changed in his script
Forde bagged another gold medal by completing the trek which started at Diamond (instead of the previously advertised Vreed-en-Hoop) and ended at Massy's Ruimveldt office in 33 minutes and 10 seconds, amidst logistical glitches with the Demerara Harbour Bridge.
Forde, 30, stopped the clock five seconds faster than he did last year and bettered his 2014's performance by 10 seconds.
The ever-improving Winston Missigher took silver 20 seconds behind while Nathaniel Giddings stepped up for the final podium spot in 33m.33s.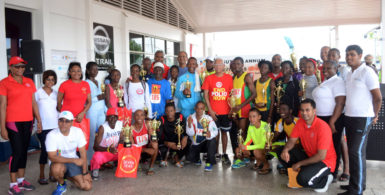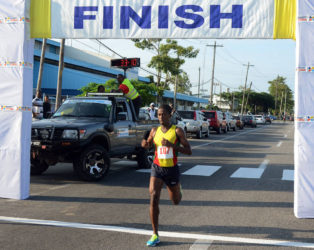 Cleveland Thomas finished fourth (34m.01s) while Quacy Morian was fifth (35m.16s). In the absence of US-based Euleen Josiah-Tanner, Alika Morgan and Andrea Foster, Ashanti Scott won the event on the distaff side, crossing the line in 42 minutes 21 seconds, some four minutes and 31 seconds ahead of second place finisher, Alicia Jack.
Shyon Boyer was third in a pedestrian 49 minutes and 32 seconds.
Odwin Tudor (34m.01s) and Claudrice McKoy (41m.32s) were the top male and female junior runners.
Other winners were Cirlene Phillips (female master's winner), Michael Davidson (male master's 40-54 winner) and Eon Archibald (male master's 55 years and over winner).
Forde, along with the top four, separated from the rest of the 65 starters at the 5km mark. With two kilometres to go Forde changed gear again pulling along Missigher and the bare-footed Giddings.
The trio would journey together until Forde made it a solo battle about a half mile from the finish to continue his starring role of the one-man show.
In a post-race interview, 'The Little Kenyan' credited his dominance to "consistency in training and determination."
The distance dynamo then told media operatives that he will switch his focus to the Venture Credit Unit 5km in Couva, Trinidad to be held on September 18 before competing in the Courts 10k the following week.
Yesterday's event also had a 3km spin off which attracted employees Massy as part of their Health and Wellness Programme.
Deo Persaud, Country Manager of Massy Guyana, expressed the company's commitment to sponsoring the race once again next year. He also congratulated the winners and relayed gratitude to all the participants who made the day's activities a success.
President of the Athletic Association of Guyana (AAG), Aubrey Hutson also thanked the athletes for participating in the event and encouraged them to remain committed to the development of athletics in Guyana.
Around the Web