Following months interviewing several overseas candidates, the Guyana Football Federation (GFF) has appointed Englishman Ian Greenwood to serve  as its Technical Director.
Greenwood takes over from Claude Bolton who resigned March 1.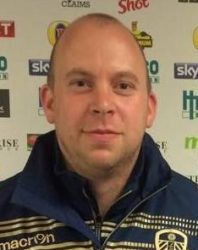 "Mr. Ian Greenwood is an English UEFA-Qualified Coach, with over 10 years of coaching/management experience at various levels of the sport including the U-14, U-15, U-16, U-18 and U-21 teams at Leeds United Football Club and seven years' experience in coach education, " a release from the GFF stated.
According to the release, Greenwood, who will officially begin his tenure  October 8, functioned as Development Coach, Head Coach and Academy Coach of a number of English Football Clubs.
These include Huddersfield Town Football Club – of the English Championship, 2007 – 2014 (Academy Coach); Leeds City College Football Academy, 2010 – 2012 (Head Coach); and Leeds United Football Club (English Championship) – his last place of employment – as a Development Coach (2004 – 2007) and as Academy Coach (2014 – 2016) respectively.
Greenwood, who has an MSc Degree in Sports Coaching, has also been involved in coach education in the capacity of Club/Professional Coach Mentor as well as Lecturer at Leeds City College, Huddersfield Town Football Club, The Football Association and Leeds Beckett University.
"The Federation received 13 applications from eight countries including Guyana, England, Scotland, Portugal and the Philippines.
Of the total received, six were shortlisted. The interviews were done in two-parts; the first beginning in July and the final in August 2016," the release concluded.
Around the Web