MUMBAI, India, CMC — India captain Mahendra Singh Dhoni has lodged a formal complaint with the Indian Cricket Board (BCCI) over the late start of the second Twenty20 International against West Indies in Florida last month.
The game at the Central Broward Regional Park Stadium was delayed by 50 minutes due to a technical failure on the part of Sunset and Vine, a production company charged with uplinking the signal to host broadcasters, Star Sports.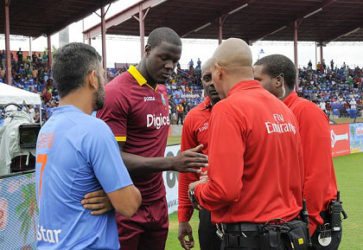 Dhoni apparently argued at the time that the reason for the delay did not fall under any of the International Cricket Council's criteria for delays, namely rain, poor light and an unfit playing surface.
"Dhoni's argument — based on ICC match guidelines — was that the match should start and not wait for the satellite signals," media reports quoted a source with knowledge of the situation, as saying.
"But the production house and, in turn, the host broadcaster, had a contrarian point of view."
Dhoni was said to be miffed by the decision to delay the start, contending that such incidences had the potential to impact the outcome of matches.
The game was eventually rained off and finished in a no-result, after inclement weather halted India's pursuit of 144 for victory at 15 without loss after two overs.
India lost the series 1-0 following their one-run defeat in the opening game.
Following the abandonment of the game, the atmosphere in the Indian dressing room was said to be "gloomy."
"Dhoni's argument was simple. He wanted to know if it was within the rules to delay the match because of a satellite failure," the source said.
"He wanted to know what happens to those who are in the ground, and had bought expensive tickets for the match."
The ICC is expected to discuss the abandonment at their annual workshop for match officials next month.
Around the Web