Guyana's realization of their first International Federation of Association Football (FIFA) Goal Project moved one step closer as the local contractor for the initiative's sub-base work has been selected.
Although unsure of the name of the successful bidder, Acting General Secretary of the Guyana Football Federation (GFF) Morrison Jones, in an invited comment told Stabroek Sports: "It has moved to the stage where one bid was selected. The two bids were Courtney Benn Construction and one called I think Home Designs. One has been selected but that I don't know who it is."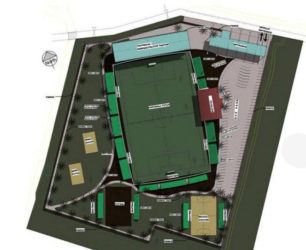 Asked about the process utilized to select the successful bid, Morrison, who replaced then General Secretary Diedre Davis said that the selection was made "sometime last week", adding that the procedure was conducted via a board.
While declaring that the names of the committee could not be released at this moment, Morrison indicated that the body comprised three members from various backgrounds.
Quizzed about the likely start of the Goal Project Base Work, he declared "Whenever they (GFF and Contractor), that is the one selected meet, that question will be answered then".
According to Jones, while he does not know the exact cost of the budget for the project's base work, the expenditure was going to be footed entirely by the world governing body. "When it comes to the actual figure and the total amount, I wouldn't be able to give that. However, FIFA is footing the entire bill," he added.
The facility, which will be constructed at the Providence Community Centre Ground, will be done in two phases, the first phase of the project will be the installation of an artificial turf and the second phase will see infrastructure such as stands, lights, beach, Futsal training pitches, mini pitches and an administrative centre for the headquarters of the GFF being established.
Former head of the GFF Normalization Committee Chief Urling had brokered an agreement between the GFF and the Eccles/Ramsburg Neighbourhood Democratic Council (NDC) for the location and was granted a 30 year lease for the land.
This information follows the revelation that Netherlands-based establishment Greenfields was officially selected by FIFA to build the Guyana's first ever Goal Project following the conclusion of the International Tender Process.
This disclosure was made by Guyana Football Federation (GFF) President Wayne Forde. It was revealed that Greenfields edged out fellow Netherlands-based entity Edel Grass after the biding process was narrowed down to two companies.
Founded in 2003, the company has installed more than 2500 pitches across the globe. They have also received the FIFA Preferred Producer for Football Title as well as similar accolades from the International Hockey Federation and the International Rugby Board.
Around the Web