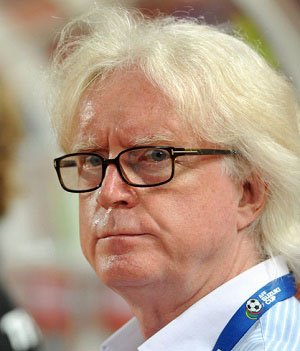 Jamaica's head coach Winfried Schaefer has indicated that he would not be stepping down after the Reggae Boyz were  dumped from the 2018 World Cup qualifying competition.
Schaefer says he intends to remain the Reggae Boyz head coach at least until the end of his contract with the Jamaica Football Federation (JFF) which is due to expire in 2018.
Jamaica bowed out of contention with a two-nil loss to Panama in a CONCACAF fourth round qualifiers at the Estadio Rommel Fernandez.
"I stay. I have a contract till 2018. I will stay here and build a new team," Schaefer assured.
"We have to build a new team; we will start Caribbean qualification very soon and we cannot go into qualification with doubt; we have stay up and never give up".
Without elaborating, the president of the Jamaica Football Association (JFF) Horace Burrell said that "there would be consequences" as a result of his country's loss to Panama.
Burrell has also said that while he cannot be "specific" there are "legal ramifications", comments which could fuel speculation over Schaefer's association with the JFF.
But Schaefer says he wants to fulfill his contract with the JFF.
"I want to build a new team, we need a local national team … with young talented, players, but we need matches and good training to build a future team, and I want local national team plus players from overseas, not players from overseas with local players," he emphasised.
"We can talk, but we have to do it. We need training centre of excellence, we need all services the players need for good football and we can do it, because we have highly motivated coaches and me".
Jamaica were due to play their final game against already eliminated Haiti yesterday in Kingston.
Around the Web