Champion athletes of the seventh Boyce/Jefford Classic, Alita Moore and Winston George were rewarded for the feats from the National Milling Company (NAMILCO) on Tuesday.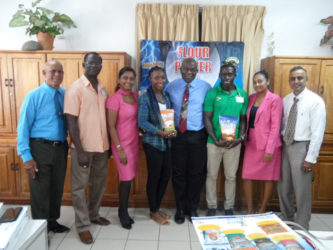 Moore and George tallied 30 individual points each after sweeping their respective sprint events to help the Guyana Police Force to three-peat at the two-day championship which concluded at the MacKenzie Sports Club on August 28.
George, the two-time Olympian and Moore pocketed $50,000 apiece from NAMILCO. The Agricola based company has been in existence since 1969 and produces several heath oriented products such as Maid Marian Harvest High Fibre Whole Wheat Flour, Maid Marian Wheat-Up Breakfast Porridge, and Maid Marian Multigrain Flour among other products.
Around the Web